Laura Bush offers campaign advice to sister-in-law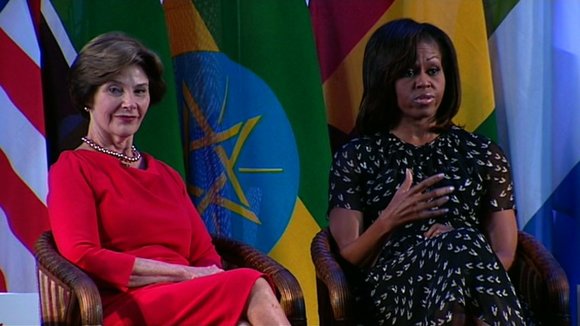 WASHINGTON (CNN) -- What's Laura Bush's advice to her sister-in-law Columba as she prepares for husband Jeb Bush's likely presidential run?
"I told her that she ought to get a really good speech," she said on CNN's "New Day," noting the Mexico-born former first lady of Florida could give that speech in both English and Spanish.
Being bilingual, Bush said, would be a "huge advantage" for Columba, and a boon for the GOP as a whole as it seeks to expand its appeal to minority groups that traditionally back Democrats in huge numbers.
"I think it's a huge advantage for her. I think it can be a huge asset for the Republican Party to reach out to Hispanics in our country. She'll be great," she said.
But Laura Bush noted that Columba is shy, a fact that's reduced her influence in her husband's campaigns and has political observers wondering how she'll handle the increased spotlight during his expected presidential run.
"She's shy but I think she'll be a really wonderful asset to Jeb," Bush said. Laura Bush added that she too had once been shy, but she got over it during her time as First Lady.
But while Bush had advice for her sister-in-law, she said her husband, George W. Bush, hadn't been advising Jeb on his campaign --- because Jeb hasn't asked for it.
"Jeb, believe me, when both your and father and your brother have been president you've watched from the sidelines for sure," she said. "He knows a lot."
For more information go to http://www.cnn.com