2015 Alley Theatre Ball, Much Ado About the Alley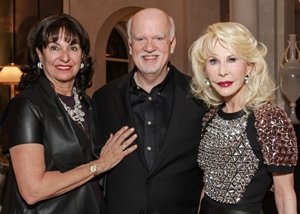 2015 Alley Theatre Ball, Much Ado About the Alley
Saturday, May 9, 2015
NRG Stadium
Headline Entertainment
Jay Leno
Mady and Ken Kades
Chairmen
Margaret Alkek Williams
Honoree
Beth Madison
Entertainment Chairman
A royal party full of rip-roaringly fun entertainment and divine fashion to celebrate the art of theatre and the dedication, hard work and genius that are the heart and soul of every artistic endeavor!
The evening will feature Host of Great Day Houston, KHOU 11's Deborah Duncan as emcee, plus irresistible music and dance tunes through the wee hours of the night, courtesy of David Caceres Orchestra. You will not want to miss the dazzling Art Auction featuring imaginative artworks inspired by recent Alley Theatre productions and created by leading artists from Houston art galleries, including the Anya Tish Gallery, Catherine Couturier Gallery, Deborah Colton Gallery, Hooks-Epstein Gallery, McMurtrey Gallery, Moody Gallery, Nicole Longnecker Gallery, Robert McClain Gallery, and Sicardi Gallery as well as a medley of other fine items and collectables from near and far.
Late Night Party
Chaired by David Peck and Michelle Phillips
Co-chaired by David and Luis Bamford-Perez
Mady and Ken Kades Party
More than 50 Alley enthusiasts – including Board Members and Ball Supporters – gathered at the residence of Mady and Ken Kades to welcome new friends to the upcoming Alley Theatre Ball, Much Ado About the Alley. The Kades' were thrilled to open their home for guests to enjoy wine and light bites while discussing the exciting details of the Alley's biggest annual fundraising event. As the special guest of the evening, Alley Theatre Artistic Director Gregory Boyd spoke about the Alley Ball's support of the theatre's education programs and thanked Mady and Ken Kades for all of their efforts to make this year's Ball a huge success.
Zadok Jewelers
Zadok Jewelers invites you to The Art of Glam, A Party Celebrating Theatre and Glitz! Alley Theatre 2015 Ball Chairmen, Mady and Ken Kades join together with Zadok Jewelers for an elegant celebration in honor of this year's Alley Ball, Much Ado About the Alley…Celebrating the Art of Theatre and the 2015 Ball Host Committee members. Join us Tuesday, March 10 for light bites, glittering jewels and a glamorous celebration. To R.s.v.p. for this exciting event, please reply to alleyball@alleytheatre.org.
Neiman Marcus
The Alley Theatre and our 2015 Ball will be featured in this year's Art of Fashion week at Neiman Marcus, March 11-16! Visit the Alley Theatre's very own fabulous window display featuring stunning Neiman Marcus style and fabulous art inspired by past Alley performances to find your ball attire inspiration.
The Tasting Room
Celebrate the 2015 Alley Theater Ball Wine Auction Wednesday, March 25 at The Tasting Room – Uptown Park. Enjoy an exquisite wine tasting and sumptuous appetizers while supporting the Alley Theatre and this year's Ball. You will have the opportunity to purchase discounted bottles of wine that will be auctioned off at the Ball.
To R.s.v.p, please reply to racheld@alleytheatre.org.
For a wine donation form please click here.
For more information, visit alleytheatre.org.