Andrés Orozco-Estrada Conducts the Houston Symphony, Soloists and the Houston Symphony Chorus in Verdi's Requiem
Vocalists Amber Wagner, Francesco Demuro, and Alfred Walker to make their Houston Symphony debuts Houston Symphony Chorus to join the orchestra and internationally-acclaimed vocalists in major perform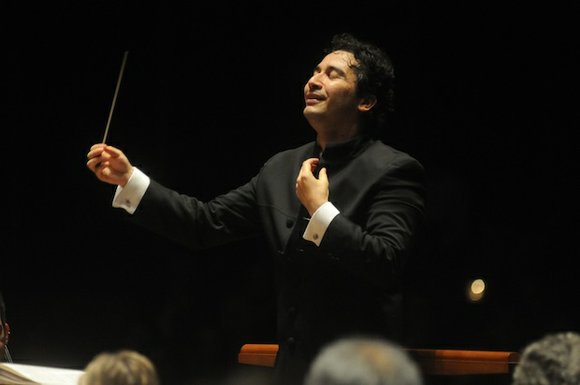 HOUSTON (March 9, 2015) – Houston Symphony Music Director Andrés Orozco-Estrada will lead the orchestra, the Houston Symphony Chorus and vocal soloists on March 20-22 in Verdi's Requiem, a towering masterpiece by Italian composer Giuseppe Verdi featuring dramatic operatic moments, brilliant symphonic writing and virtuosic solo performances.
Verdi's Requiem Mass is the composer's only large-scale sacred composition, which he wrote despite his own agnosticism to honor the memory of his close friend and renowned Italian poet and novelist Alessandro Manzoni in the aftermath of his death. The magnificent Requiem made its debut in May 1874, the first anniversary of the cultural icon's passing and less than a decade after the final war of Italian Independence. This masterpiece takes audiences on a powerful spiritual journey, evoking with striking emotional honesty both terror in the face of death and yearning for the peace of heaven.
"Verdi's Requiem is full of emotions; from the powerful solo voices to the enchanting choral moments. It's as enjoyable and fascinating to hear it and watch it as it is to understand the musical and political events and historical complications that led to the composer's masterpiece," said Music Director Andrés Orozco-Estrada. "Houston audiences won't be disappointed as they'll get to see a handful of dramatic operatic elements go hand in hand with the angelic voices of the chorus and soloists along with subtle, sublime melodies."
Verdi's Requiem will feature Grammy-Award winning mezzo-soprano and The Woodlands resident Sasha Cooke, celebrated American soprano Amber Wagner, rising Metropolitan star Francesco Demuro and New Orleans native and versatile bass-baritone Alfred Walker. These acclaimed soloists will be joined on stage by members of the Houston Symphony Chorus under the direction of Chorus Director Betsy Cook Weber. All vocal soloists with the exception of Cooke will be making their Houston Symphony debuts that weekend.
Unless otherwise noted, all concerts take place at Jones Hall for the Performing Arts, 615 Louisiana Street, in Houston's Theater District. For tickets and information, please call (713) 224-7575 or visit www.houstonsymphony.org. Tickets may also be purchased at the Houston Symphony Patron Services Center in Jones Hall (Monday – Saturday from 10 a.m. to 6 p.m.). All programs and artists are subject to change.

Verdi's Requiem
Friday, March 20, 2015, 8:00pm
Saturday, March 21, 2015, 8:00pm
Sunday, March 22, 2015, 2:30pm
Andrés Orozco-Estrada, conductor
Amber Wagner, soprano
Sasha Cooke, mezzo-soprano
Francesco Demuro, tenor
Alfred Walker, bass-baritone
Houston Symphony Chorus
Betsy Cook Weber, director
Tickets from $25

Jones Hall
615 Louisiana St.
Houston, TX 77002
About Andrés Orozco-Estrada
Andrés Orozco-Estrada, born in 1977 in Medellin, Colombia, and trained in Vienna, is one of the most sought after conductors of his generation. He begins his tenure as the Houston Symphony's 15th Music Director in September 2014.
In addition to his appointment in Houston, Andrés has taken up the position of chief conductor of the Frankfurt Radio Symphony Orchestra during the 2014-15 season. In September 2015, Andrés will also take up the position of principal guest conductor of the London Philharmonic Orchestra.