Toyota Announces Executive Changes in North America, Diversifies Global Leadership Team with New Appointments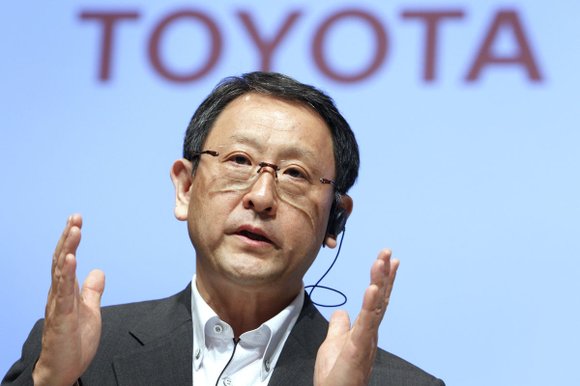 Plano, Texas, March 4, 2015 – Toyota today announced executive changes across its North American operations, effective as of April 1.
The appointments reflect Toyota's ongoing efforts to diversify its global leadership team and leverage talent from its biggest, most experienced market as it continues to evolve as a global, customer-focused company. Toyota is also further strengthening regional integration in North America so it can respond more quickly and effectively to its customers' needs.
Akio Toyoda, President of Toyota Motor Corporation (TMC), said: "Bringing together an experienced and diverse team of executives with fresh perspectives, unique regional insights and a global mindset will help us better serve customers around the world. Our new appointments also put in place a broader base of support for North America CEO Jim Lentz as he continues to build upon the strong momentum he has achieved with dealers and customers in this key market."
In April 2014, Toyota announced it is establishing a single, state-of-the-art headquarters in Plano, Texas for its North American manufacturing, sales and marketing, and corporate operations. Toyota Motor North America or "TMNA" is the new designation of Toyota's North American operating entity headquartered there.
The changes announced today include:
James (Jim) Lentz, senior managing officer, TMC, chief executive officer of Toyota's North America Region, and president and chief operating officer of Toyota Motor North America, Inc. (TMA), adds to his title president, Toyota Motor Engineering & Manufacturing, North America, Inc. (TEMA).
Osamu "Simon" Nagata, managing officer, TMC, and chief executive officer and president of TEMA, is named senior managing officer, TMC; executive vice president, TMA; and chief administrative officer of TMNA. In this new role, Nagata will be responsible for the "One Toyota" initiative encompassing Toyota's transition to a single North American headquarters and related collaboration and integration efforts. To this end, Nagata will manage on a cross-affiliate basis all North American corporate staffs. He is based in Plano, Texas, reporting to Lentz.
Julie Hamp, chief communications officer of Toyota's North America Region, will become managing officer and chief communications officer, TMC, and the first woman named to these positions globally. Based in Tokyo, Japan, Hamp will lead Toyota's global communications efforts, with responsibility for public affairs and overseas external affairs. She will report to Shigeru Hayakawa, senior managing officer, TMC.
Christopher (Chris) P. Reynolds, general counsel and chief legal officer, TMA, and group vice president, corporate secretary, chief environmental officer and chief compliance officer, Toyota Motor Sales, U.S.A., Inc. (TMS), is named managing officer and appointed to the newly created position of general counsel and chief legal officer, TMC. Reynolds becomes the first African-American named to these positions globally. He will maintain offices in Torrance, Calif. and Toyota City, Japan and, eventually, Plano, Texas once Toyota's new headquarters there is completed. He will report to Shigeki Terashi, senior managing officer, TMC, and Tatsuro Ueda, managing officer, TMC.
Osamu Ushio, currently senior vice president for manufacturing, TEMA, responsible for all vehicle assembly plants in North America, and corporate advisor, Toyota Motor Manufacturing, Kentucky, Inc. (TMMK), is named executive vice president of TEMA, with responsibility for all TEMA operations and North American manufacturing, including all assembly and unit plants, reporting to Lentz.