Meharry Medical College Names Dr. James E.K. Hildreth 12th President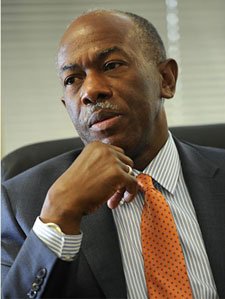 Nashville, Tenn. (Friday, March 6, 2015) –The Board of Trustees of Meharry Medical College, the nation's largest private, independent historically black academic health sciences center, today announced that Dr. James E.K. Hildreth has been selected as Meharry's 12th President and Chief Executive Officer. Hildreth will succeed Dr. A. Cherrie Epps, who will continue to lead the organization until June 30, 2015.
"Dr. Hildreth brings a wealth of knowledge and expertise to Meharry along with a great appreciation for our college's legacy," said Dr. Frank S. Royal Sr. Chairman of Meharry's Board of Trustees. "He was an integral member of our faculty for many years, having founded Meharry's Center for HIV/AIDS Health Disparities Research."
An active HIV/AIDS researcher, Hildreth comes to Meharry from the UC Davis College of Biological Sciences, where he served as dean and made significant contributions to the university's fundraising efforts and research programs. Hildreth also played a significant role in enhancing faculty development and student engagement at UC Davis. Specifically, Hildreth introduced a formal fundraising to the college, more than doubling the amount of private funds raised; created a biology postdoctoral program; hired 16 new faculty members; and opened a first-of-its-kind advising center for undergraduate students.
"These accomplishments, along with his overall track record in academic leadership, focus on research, devotion to students, and dedication to our mission of meeting the healthcare needs of the underserved made him the obvious choice for president," said Dr. Royal.
Prior to UC Davis, Hildreth held positions at Johns Hopkins including founding associate dean for Graduate Studies and professor in pharmacology, and he was a professor at Meharry from 2005-2011. He earned his bachelor's degree from Harvard University, his doctorate in immunology from Oxford University, and his medical degree from Johns Hopkins University School of Medicine. He was the first African American from Arkansas to be named a Rhodes Scholar. He is a member of the Institute of Medicine, a recipient of a National Institutes of Health Director's Pioneer Award and serves on the Harvard University Board of Overseers.
"Dr. Hildreth's leadership will further Meharry's legacy, bring fresh ideas and perspectives to our storied college, and build upon our reputation as one of the finest institutions for medical education in the nation," said Royal. "We are excited for him to rejoin our community and help Meharry achieve even greater feats into the future."
Hildreth was identified as Meharry's president by an 11-member Presidential Search Committee that included representation from alumni, students, the community, and members of the Board of Trustees. Under the leadership of Chair Jim Williams, the committee worked closely with the global executive search firm Spencer Stuart to conduct a year-long national search for qualified executives in academic medicine. The search produced an impressive pool of interested, qualified and highly motivated candidates from which the committee selected three for consideration. After a comprehensive evaluation and intensive interview process, the Presidential Search Committee presented Hildreth as the single-most outstanding candidate to the Board of Trustees.
The Board unanimously voted to approve his appointment, recognizing his unique qualifications and ability to build on Meharry's solid and enduring foundation.