Compliments of Charcoal
NEW! Earth Therapeutics Purifying Vegetable Facial Sponge, Purifying Hydro Towel & Purifying Hydro Sponge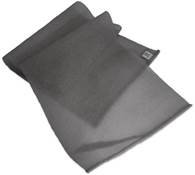 Medicinal bamboo charcoal has been used and trusted for centuries to draw out and cleanse away toxins and impurities and is quickly becoming the most sought-after ingredient in must have beauty products today. Earth Therapeutics NEW! trio of products including their Purifying Vegetable Facial Sponge, Purifying Hydro Towel and Purifying Hydro Sponge all contain this hero component and are guaranteed to give your skin a boost of cleanliness that is sure to keep you dabbling on the dark side all season
Purifying Vegetable Facial Sponge ($7.99)
Helping to draw out impurities and toxins and naturally pH balanced, this soft vegetable fiber sponge, from the Amorphophallus Konjac plant, gently scrubs and polishes even the most sensitive skin. Long used in Asian spa cultures, Konjac vegetable sponges are renowned both for their luxuriously soft texture and ability to effectively deep cleanse. Infused with medicinal bamboo charcoal to enhance its purifying benefits, skin is guaranteed to look and feel luxuriously soft and healthy with regular use.
Purifying Hydro Towel ($9.99)
This hydro towel introduces the benefits of medicinal bamboo charcoal through an active fabric interweave that draws out impurities while gently exfoliating away the outer layers of dead skin to unclog pores. Specially textured to massage the skin, it also stimulates circulation so it can breathe freely. After regular weekly use, skin will look clean, with an improved and glowing tone.
Purifying Hydro Sponge ($9.99)
Textured to gently exfoliate away the outer layers of dead skin to unclog pores, this hydro sponge stimulates circulation and enhances the cleansing process by drawing out impurities with purifying medicinal bamboo charcoal. After regular periodic exfoliation, skin will benefit from the deep clean resulting in a flawless finish you'll love.
About Earth Therapeutics
An aromatherapy and botanical based skin and body care line available in major retail outlets, Earth Therapeutics boasts over 500 products, making it an expert in stress relief, relaxation, foot care, exfoliation, tools, hair removal and a plethora of other body care essentials. All of the items are reasonably priced so that everyone can enjoy the fun, innovative, "feel good" products the natural-ingredient-driven company offers. Striving to make Earth Therapeutics "therapeutic" for the Earth and the people, Earth Therapeutics' simple philosophy has helped them maintain strong customer retention for over 14 years.
Available at www.earththerapeutics.net