Robert Durst, Featured on HBO's 'The Jinx,' Charged with First-degree Murder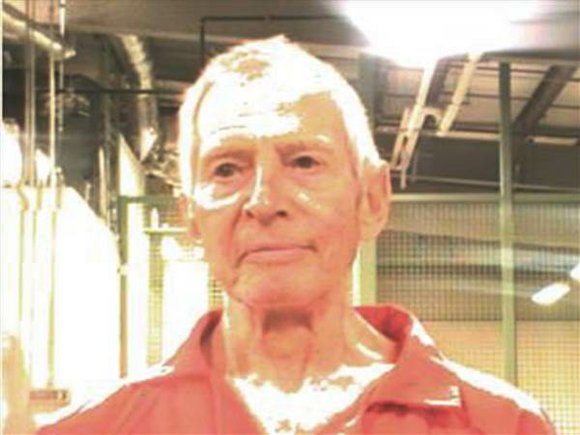 By Holly Yan and Catherine E. Shoichet
CNN
(CNN) -- Millionaire real estate heir Robert Durst was "lying in wait" when he shot and killed his longtime friend because she "was a witness to a crime," prosecutors alleged Monday.
The evidence behind that accusation wasn't revealed in the Los Angeles County District Attorney's court filing, which charged Durst with first-degree murder. If he's convicted in the December 2000 killing of Susan Berman, prosecutors said, he could face the death penalty.
The charges, filed two days after FBI agents arrested Durst in New Orleans, set the stage for a new courtroom battle for a man who's no stranger to run-ins with the law.
Durst's alleged connections with Berman's death and two others became the focus of HBO's true crime documentary, "The Jinx."
He admitted to shooting and dismembering his neighbor but was acquitted of murder.
He was suspected in his first wife's disappearance, but no one could pin him to it.
And just before Berman, his longtime confidante, was going to speak to investigators about his wife's case, she was killed.
He's long denied any connection to her death or his wife's disappearance. But some say his mutterings picked up on a live microphone and broadcast in the HBO documentary make it sound like Durst could be changing his tune.
"What the hell did I do?" Durst says from a bathroom at the end of the documentary. "Killed them all, of course."
His attorney says not to read too much into those comments. But more on that later.
To understand the complexities of Durst's life -- and the deaths linked to it -- we have to start at the beginning:
His wife's disappearance
What we know: Durst amassed his fortune from his family's real estate business, the Durst Organization, which owns a number of high-profile buildings in Manhattan.
His first wife, Kathie McCormack, was on her way to medical school in New York when she vanished in 1982.
"I put her on the train in Westchester to go into the city that evening. That was the last time I ever saw her," Durst testified in a separate case over a decade later.
McCormack had told her close relatives and friends that her husband had begun to abuse her physically. Sworn affidavits by her sister, an attorney and a family friend said that McCormack had told them that she was physically assaulted by Durst during their marriage.
Despite a cloud of suspicion over the years, Durst has never been arrested in the disappearance.
The case inspired the 2010 movie "All Good Things," which starred Ryan Gosling and Kirsten Dunst. Though Durst disputed the film's implication that he'd killed his wife, he praised the movie to The New York Times and said parts of it made him cry.
What we don't know: What actually happened to McCormack. The New York Times said she has been declared legally dead.