The Wild Atlantic Way; the Longest Coastal Route in the World Experience it with Vagabond Adventure Tours of Ireland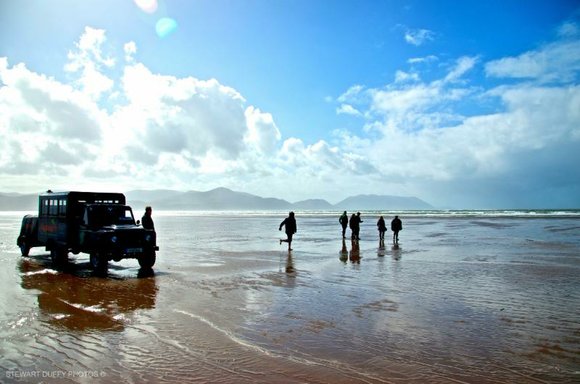 March 17, 2015. County Wicklow, Ireland - The Wild Atlantic Way is the longest defined coastal touring route in the world, embracing Ireland's wild West Coast landscape, ancient monuments and historical sites. It's a stunning route that twists and turns for 1,600 miles along an undulating coastline from the Inishowen Peninsula in County Donegal to Kinsale in County Cork. The Wild Atlantic Way is not just a driving route, it's an invitation to adventure.
With countless ways to explore it by sea kayaking, hiking, mountain biking and even surfing, Vagabond Adventure Tours of Ireland makes it all accessible, thanks to their smartly planned multi-sport scheduled trips that take adventurous travelers to these authentic, off the beaten path areas along the route. Rates for a seven-day trip along the Wild Atlantic Way start at just $1,340 per person.
Utilizing custom-designed Land Rovers that take no more than 13 passengers, Vagabond trips explore an area in depth with daily adventures. One day it might be sea kayaking in sheltered waters off the coast of Cork, while another day its horseback riding along a beach in Kerry. Nightly stays are in coastal villages and towns, in locally owned guesthouses and small hotels.
One of Vagabond's classic Wild Atlantic Way journeys is their World Tour of Ireland. Focused on the southwest and counties Kerry and Cork, this seven-day trip includes sea kayaking off the Beara Peninsula, horseback riding on the Dingle Peninsula, and mountain biking in Killarney National Park. The price is $1,340, based on double occupancy, including accommodations and breakfasts.
The Wild Atlantic Way may be Ireland's best-kept secret and with the dollar at its strongest in 11 years, this is the perfect year to discover it.
Vagabond Adventure Tours of Ireland
Since 2002, Vagabond Adventure Tours of Ireland has been leading travelers on small group tours around Ireland. Vagabond was founded by Rob & Amy Rankin after traveling extensively through Southern Africa. Impressed by the classic African travel modes of safari and overland tours, they decided to bring the concept to Ireland. They established Driftwood Irish Journeys of Discovery in 2011 as a division of Vagabond to offer trips for more leisurely travelers. For more information, visit vagabondtoursofireland.com