Florida Georgia Line Shows the Houston Rodeo How They Roll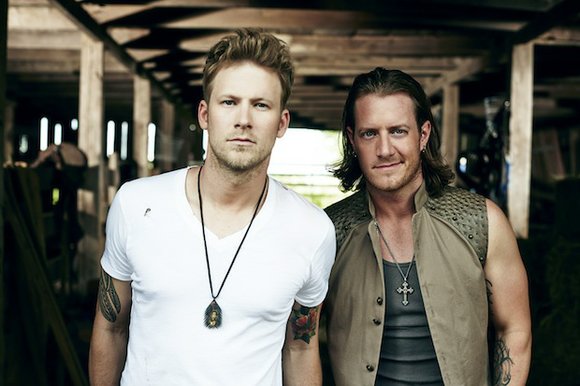 Country music's golden boys rocked NRG Stadium performing their feel-good, party time hits.
On Wednesday March 18th, country music's dynamic duo Florida Georgia Line gave the audience a "dayum" good time during their rodeo performance.
Skyrocketing to stardom by becoming the only artist in history to join Brooks & Dunn in achieving four back-to-back, multi-week #1 singles, Florida Georgia Line has broken the record for longest #1 on Billboard's Hot Country Songs chart selling over 18.2 million tracks worldwide off their 2-time platinum debut album Here's to the Good Times.
Famous for incorporating rap and pop into their music and collaborating across genres with artists like Nelly and Jason Derulo, Tyler Hubbard and Bryan Kelley are the poster boys for contemporary country while embracing their crossover success.
No strangers to getting the crowd hyped with their ready-for-a-good-time vibes and high-energy stage presence, Florida Georgia Line established themselves as a force to be reckoned with in country music tonight.
The bro-duo performed hit songs from their first album Here's to the Good Times including "Round Here", "Get Your Shine On" and "Party People" as well as songs from their latest sophomore album Anything Goes including "Every Night", "Sun Daze", and "Sippin' On Fire". The neon lighting and music video clips playing on the jumbotron intensified each song's theme and message flawlessly.
Lead vocalist Tyler Hubbard (Georgia) showcased his incredible range and stamina while Brian Kelly (Florida) brought the high-energy and crowd interaction the whole way through.
Towards the end of the show, "FlaGaline" gave a special toast to their Houston fans with blue SOLO cups in hand followed by an acoustic rendition of "favorite song they have ever heard" titled "Dirt", the first single released off Anything Goes. The night ended with a performance of the group's megahit "Cruise".
Florida Georgia Line is currently on their Anything Goes tour and will be returning to neighboring city Beaumont in August.
For more information, visit rodeohouston.com and floridageorgialine.com