"Power" Returns June 6th on Starz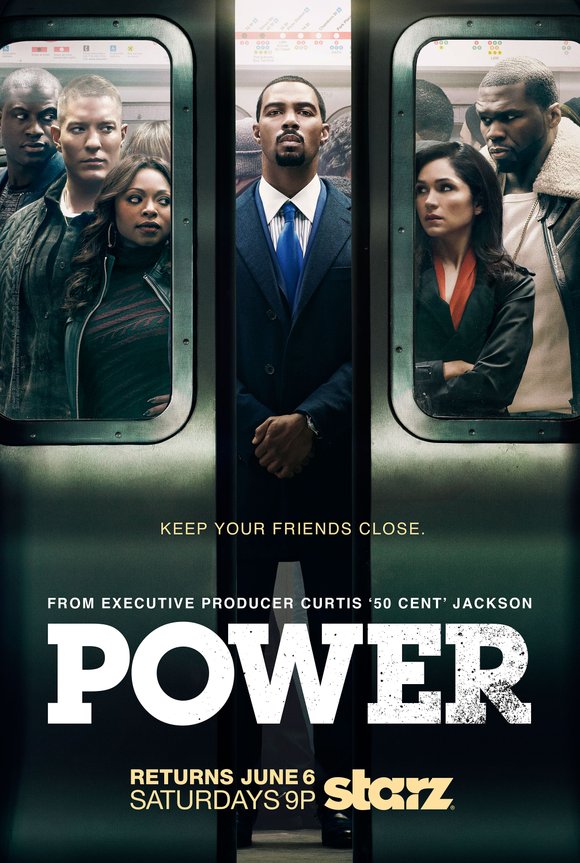 Beverly Hills, Calif., March 18, 2015 – Starz today announced the highly anticipated return of original series "Power" on Saturday, June 6th at 9pm ET/PT. The second season of "Power" features ten hour-long episodes, a bump from the first season's order of eight episodes.
Starz also released the never-before-seen key art for season two of "Power," which features the main "Power"-players fighting to stay on top: Omari Hardwick as James "Ghost" St. Patrick, Lela Loren as Angela Valdes, Naturi Naughton as Tasha St. Patrick, Joseph Sikora as Tommy Egan, Sinqua Walls as Shawn and Curtis "50 Cent" Jackson as Kanan.
Season one of "Power" was well-received by both critics and fans, earning rave reviews and steadily increasing viewership throughout the season. From Executive Producer Curtis "50 Cent" Jackson and show creator and Executive Producer Courtney Kemp Agboh ("The Good Wife"), "Power" straddles the glamorous Manhattan lifestyles of the rich and infamous and the underworld of the international drug trade.
Season two picks up right where it left off: James "Ghost" St. Patrick doubling down on his drug business to save his nightclub and dream of a legitimate future. Ghost's work troubles pale in comparison to juggling his relationship with his wife, Tasha, and his first love, Angela, who's also an Assistant US Attorney investigating his drug organization.
Ghost is set further back from his dream by his business partner, Tommy, who loves the drug game, and his former mentor, Kanan, fresh out of jail and looking for revenge.
Season two has Ghost in a race against himself: Can he get out of the drug game alive before Angela discovers who he is?
"Power" premieres on Saturday, June 6th at 9pmET/PT on Starz with a ten hour-long episode second season.
David Knoller, Mark Canton and Randall Emmett serve as Executive Producers on "Power." The show is also produced by G-Unit Films and Television, the production company launched by Curtis "50 Cent" Jackson.

For more information visit the "Power" Facebook Page and follow @Power_ Starz on Twitter. Join the conversation with #PowerTV and #STARZ.
What began as music chart dominance for the rap music phenomenon quickly transformed to success in corporate America as a multi-tiered business mogul to be reckoned with. 50 Cent has also carved out a successful and acclaimed career as an actor and producer. He recently filmed Spy with Melissa McCarthy and Jude Law and Southpaw with Jake Gyllenhaal, Forest Whitaker and Rachel McAdams, directed by Antoine Fuqua; both films will be released in 2015. In 2005, 50 Cent founded the production company, G-Unit Films and Television, producing a wide variety of content across various platforms. Additionally, 50 Cent serves as Executive Producer and has a reoccurring role on the hit series "Power" on Starz and is an Executive Producer on the critically acclaimed SundanceTV series "Dream School." Recognized as one of the most talented and prolific music artists of his time, 50 Cent has managed to leverage his star power into record breaking brand extensions encompassing a broad spectrum of businesses including: artist management, film and television production, footwear and apparel, fragrance, video games, publishing, headphones, health drinks and supplements.