Is Robert Durst tied to other cold cases? FBI is investigating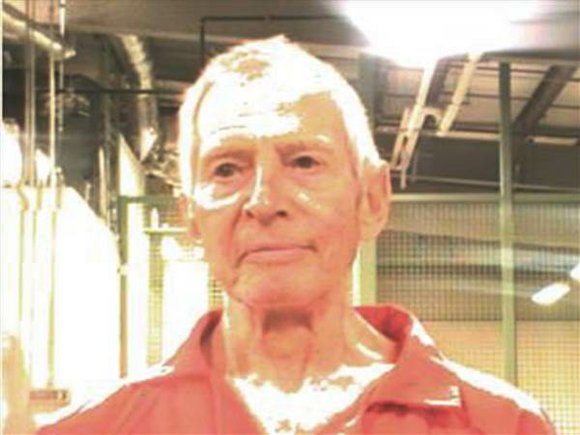 (CNN) -- The FBI is asking detectives across the country to dust off their cold case murder files and see whether millionaire heir Robert Durst could be connected to any other unsolved crimes.
Durst, the focus of HBO's true crime documentary series "The Jinx," was charged with first-degree murder this week in the 2000 killing of his longtime confidante, Susan Berman.
Now the FBI is putting out a call to local authorities to examine cold cases in locations near where Durst lived over the past five decades, a U.S. law enforcement official said. Unsolved cases in Vermont, upstate New York, the San Francisco Bay area and Southern California are among those getting a new look, the official said.
Durst's attorney, Dick DeGuerin, said it's a sign that authorities are desperate.
"They seem to be going to such great lengths to pin something else on him," DeGuerin said. "They must not have much of a case to begin with."
Durst, who authorities believe has a net worth of $100 million, has lived in numerous locations and owned property in at least four states, according to court documents and public records.
In "The Jinx," Durst describes the time he spent living in Vermont with his first wife, Kathleen, running a health food store in the 1970s.
In 1982, Kathleen McCormack Durst went missing. Durst says he last saw her when he dropped her off at a train station in Katonah, New York, and she headed to their Manhattan apartment. Her family members say they believe she's dead and that Durst is the one to blame. The case has never been solved.
He's also lived in Galveston, Texas, where he admitted to shooting a neighbor and dismembering the body in 2001. He was acquitted in a 2003 murder trial after arguing he'd acted in self-defense.
This week, police searched condos Durst owns in Houston as part of the investigation into Berman's death.
She was shot dead in December 2000 in her Beverly Hills, California, home. Investigators know Durst was in California the week Berman died. It's a detail Durst shrugs off in the HBO documentary, in which he denied he had anything to do with Berman's death and said, "California's a big state."
Ties to California teen's disappearance?
Durst says in the documentary that he had traveled that week to Trinidad, California, a small coastal city in northern California.
"It was very rural, very pretty," he says.
And it was a place, Durst says, where he lived "off and on."
In Eureka, about 20 miles south, Durst has been part of another investigation.
Authorities there say they haven't ruled out the possibility that he could be connected to the disappearance of Karen Mitchell, who went missing in November 1997 when she was 16 years old.
And this week, the police chief said investigators were interested in learning what Durst has to say about that case now that he's behind bars.