Gourmet™ Grillware Manufacturer Partners with The Oyster Bed
Innovative Oyster Grilling While Protecting Our Coastline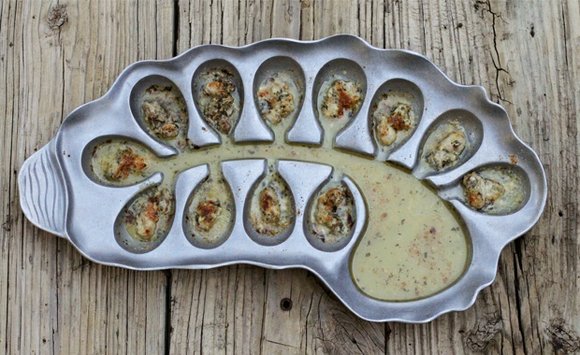 Chicago, IL – Chicago, March 2015 - Gourmet™ Grillware has teamed up with the The Oyster Bed to create the ultimate oyster grilling innovation. Not only is it the perfect way to cook oysters, its use can positively impact the southern coastlines of the United States for many years to come.
The Oyster Bed™
The Oyster Bed is inspired by 19th century oyster plates and a desire to help the environment. This patent pending design makes preparing grilled or baked oyster dishes easier, whether using pre-shucked oyster meat or cooking them on the half shell.
When cooking oysters, its unique system of channels filter the renderings into a common reservoir as the oysters cook – perfect for bread dipping!
The Oyster Bed can be put in the oven, grilled on a pit, or put in the fridge or freezer to serve cold dishes such as oysters on the half shell, cocktail shrimp, or deviled eggs.
Our Purpose
With the Louisiana coast losing a football field of land per hour in coastal erosion, there has never been a more important time for an increase in man-made oyster reefs, which duplicate many of the benefits of natural reefs. Despite recycling initiatives, our nation's oyster bars and restaurants still struggle to recycle their inventory, so tens of billions of oyster shells end up in landfills. The Oyster Bed helps solve this problem. It gives the chef an opportunity to use pre-shucked oysters and enables those stockpiles of oyster shells to go back to the nation's valuable estuaries via the very oyster fishermen who harvested this keystone species in the first place!
The LePetite, or 1/2 Dozen Oyster Bed - $114 MSRP
Gourmet™ Grillware, a product of Wilton Armetale, will not break, chip, crack, rust or tarnish.
Armetale® metal is a patented aluminum alloy that was originally developed in the 1960's for the restaurant industry in New York.
This rugged, restaurant tested metal and the grill together just make sense. You can use the same Armetale piece to prepare, cook and present your tasty creations. That means less time spent cleaning up. Durable enough for everyday use our grillware is
guaranteed for life against breakage!
Hot foods will stay hot longer at the table. Cold foods in chilled Armetale metal stay colder longer keeping salads crisp and drinks cold during your entire meal. Best of all, clean up is easy with warm soapy water.
The Oyster Bed launched on Kickstarter and quickly became Louisiana's #1 Top Funded program on Kickstarter. Follow the journey: https://www.kickstarter.com/projects/waller/the-oyster-bed-cultivating-creative-cooking