1st Annual Girlz Rule B-Ball Camp Makes a Slam Dunk In Bayou City During Spring Break
Ke'Tara Wells | 3/26/2015, 11:02 a.m.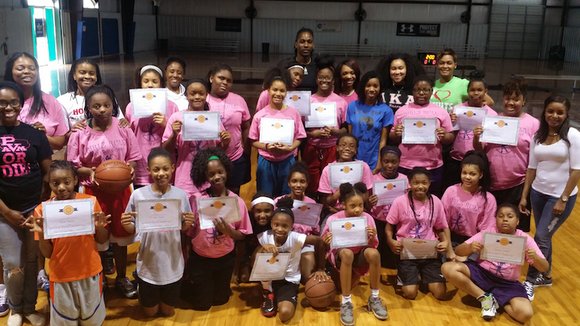 The Dwight D. and Sheryl H. Howard Foundation held their 1st annual "Girlz Rule" basketball camp on March 19th-20th at Crossover Athletics. The finale was Saturday March 21st, where ten young ladies who met scholastic and athletic ability enjoyed a private luncheon at Outback Steakhouse-Meyerland which ended with ice skating at the Galleria Mall. The camp was hosted by Tashanda Howard, sister of Dwight Howard Jr. with the assistance from NBA/WNBA siblings and professionals such as: Jimmelle Melvin, sister of WNBA legend Chasity Melvin, Phebe Smith, sister of NBA player Josh Smith, Jahaziel Howard, Coach of Howard Elite AAU Team, Tanesha Barefield, Owner Crossover Athletics, Dana Jackson, radio personality Majic 102.1, and Simone Eli, sports anchor, KPRC2. From positive reinforcement to mentorship the girls were able to set career goals with vision boards, learn how to "Dress for Success" with Macy's, acquire dinner etiquette skills, and leave motivated from our distinguished speakers.
The second day of the camp started with an introduction to dinner etiquette from Jamie Bertrand, Founder/Broker of Elite Real Estate Services. A pleasant surprise came from former WNBA All-Star Tina Thompson, who spoke to the young ladies about working hard and staying focused in all aspects of life. She also stressed the importance of getting a good education and maintaining academic excellence. "The most important thing is your education; no one can deny you of that!" said Tina Thompson.
Friday ended on a high note with a powerful message from Judge Clarease Rankin-Yates. Judge Yates was the first African-American woman in history, to be appointed to the United States Immigration Court. She spoke to the girls about college, pursing their careers and thinking outside the box when opportunities are presented. "You don't have to be exceptionally smart in order to go to college, but you have to be determined!" said Federal Immigration Judge Clarease Yates. Tashanda Howard followed her statement as she stated, "I want the girls to understand that even though they love basketball, they need to have a plan B and a plan C. In life, we have to be ready for our purpose when we are called just like basketball. These fundamentals are applied in our everyday lives." They ended the second day of the camp by awarding all of the girls a certificate of excellence for their attendance, their ability to grasp new basketball fundamentals, set career goals, and character building.
The camp ended with a private luncheon for ten girls who exhibited academic and athletic excellence, which was sponsored by Yolanda Lee, proprietor of Outback Steakhouse-Meyerland. (Each student had to fill out a registration form, complete an essay, and get a LOR from their teacher, principal, or coach to be considered for luncheon and ice-skating) The icing on the cake was a trip to the Galleria Mall for ice-skating with their mentor "One of the most important things that I learned being here was setting goals. I'm getting ready for high school, so working with the vision boards helped me pinpoint what's my passion and what direction I want to go in. Not only did it help with career goals, but I can also add personal goals and use it as motivation leading up to college" said 15-year-old Kreonna Ferguson.
Girlz Rule sponsors include: Wal-Mart, Elite Real Estate Services, Presidential Clothing, Capital One Bank, Mazz Global Recruiting, Sigma Gamma Lambda and Alpha Impact Charitable Foundation. Media sponsors include Radio One-Houston (97.9 the Box, Majic 102.1, and Boom 92) and Houston Style Magazine with a special thank you to KPRC Channel 2.
About the Dwight D. and Sheryl H Howard Foundation
The Dwight D. and Sheryl H. Howard Foundation, Inc. has aggressively sought opportunities to teach life skills to youth in underserved communities throughout Georgia. A team of dedicated adults have gathered sports equipment, teaching tools, mentors, and traveled to different locations on a mission to empower the next generation through learning about the power of leadership and teamwork. The Dwight D. and Sheryl H. Howard Foundation travels through the impoverished communities of Metro Atlanta, with a passionate group of Christ-like staff and volunteers to teach life skills that can be carried off the court and into every arena of life.
For more information, visit www.dwight-howard.com