Better, Smarter, Healthier: Health Care Payment Learning and Action Network Kick Off to Advance Value and Quality in Health Care
Over 2,800 patients, insurers, providers, states, consumer groups, employers and other partners have registered; dozens have set goals that meet or exceed HHS's goals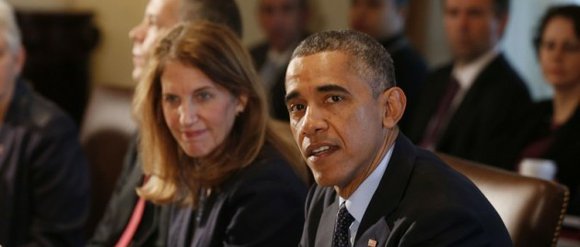 The Affordable Care Act established an ambitious new framework to move our health care system away from rewarding health providers for the quantity of care they provide and toward rewarding quality. These new models have been put to work in Medicare, and have contributed to 50,000 fewer patient deaths in hospitals due to avoidable harms, such as infections or medication errors, and 150,000 fewer preventable hospital readmissions since 2010, when the Affordable Care Act became law.
To engage private sector leaders in building on this success, Department of Health and Human Services Secretary Sylvia M. Burwell was joined today by President Obama, as well as state representatives, insurers, providers, business leaders, and consumers at the White House to kick off the Health Care Payment Learning and Action Network ("Network"). More than 2,800 payers, providers, employers, patients, states, consumer groups, consumers and other partners have registered to participate in the Network. Today's inaugural meeting of the Network is being lived streamed at www.whitehouse.gov/live.
Secretary Burwell earlier this year announced the ambitious goal of tying 30 percent of payments to quality and value through alternative payment models by 2016 and 50 percent by 2018 under new approaches to paying for health care created by the Affordable Care Act. The Network will accelerate this transformation of the nation's health care delivery system to one that achieves better care, smarter spending, and healthier people, by supporting the adoption of alternative payments models through their own aligned work, sometimes even exceeding the goals set for Medicare.
"It is in our common interest to build a health care system that delivers better care, spends our health care dollars more wisely, and results in healthier people," said Secretary Burwell. "When government and business work together, we can all benefit. Patients can get the right care at the right time, doctors can achieve the best ideals of their profession, and health care can be more affordable for individuals and companies."
The Affordable Care Act put in place financial incentives for hospitals and other providers to promote quality while making health care affordable. HHS has already seen promising results on transforming the health care delivery system, including:
More than 400 Medicare Accountable Care Organizations (ACOs) participating in the Shared Savings Program and the Pioneer ACO Model have generated a combined $417 million in savings for Medicare;
Initiatives like the Partnership for Patients, ACOs, Quality Improvement Organizations, and others have generated a 17 percent decline in the rate of hospital-acquired conditions, $12 billion in health care cost savings and saved 50,000 lives between 2010 and 2013;
Medicare hospital readmissions decreased by nearly eight percent – translating into 150,000 fewer readmissions between January 2012 and December 2013;
Through the work of the Partnership for Patients and the Strong Start for Mothers and Newborns initiative, early elective deliveries decreased 64.5 percent nationwide between 2010 and 2013, thus improving birth outcomes and meaning fewer at-risk newborns; and
Doctors' offices and other providers participating in ACO programs and other Innovation Center initiatives have offered expanded office hours and 24 hour call lines to improve access and support care coordination.