Classic, Cool Family Fun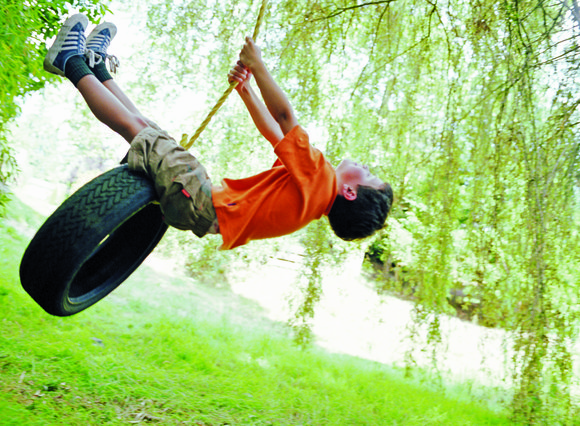 Enjoy summer favorites from classics of the past
(Family Features) Summer is the season when many of the best childhood memories are made. That's why introducing future generations to treasured pastimes is an ideal way to ensure classic summer moments live on for years to come.
Though the world has changed over the years, the simple pursuits of summers past can and should still live on. The long, warm days of the season are meant for making memories, and there's no better way to do so than by revisiting "throwback" summer pleasures.
Reminiscing on the Road
Whether traveling across the country or state, a road trip is a terrific way to bond with family while exploring the world away from home. When parents take their children on a road trip to their favorite childhood vacation spots, they can explore how the sites have changed over time, and gain a whole new experience through their kids' eyes.
Long trips on the road don't have to require the latest technology like cell phones and tablets. To relieve boredom, parents can teach their kids classic road trip games from their youth like I spy, 20 questions or the license plate game. These timeless activities are a great way to have fun, pass time and encourage family bonding.
Nearby Neighborhood Fun
Closer to home, there are undoubtedly various ways to fill the steamy days of summer, which many of today's parents remember fondly from their own youth. As shocking as it may be for kids today to learn that summer fun can exist beyond video games, tablets and other electronic devices, "unplugged" family fun may be just what the season calls for.
In many areas, families can find fun summer activities right in their own backyards. The joys of entrepreneurship with a lemonade stand at the end of the driveway can be just as fun for today's children as they were for their parents. Making and sharing "summer camp" style friendship bracelets creates memories. Creating a colorful world in the driveway or on the sidewalk with chalk can also bring out a child's artistic side, and can lead to other summertime favorites like hopscotch with friends.
Refreshing Summer Snacks
Nothing says summer like enjoying a frozen treat on a hot day, and many generations have fond memories of chasing the Good Humor Man driving that iconic Good Humor Truck down the street. Known as the original ice cream truck brand, Good Humor has been reimagining America's favorite candies and desserts as frozen treats for more than 90 years.
Just as other classic summertime traditions have modernized over the years, so has Good Humor. This year, the brand is introducing a new six-pack of Good Humor Girl Scouts Thin Mints bars, inspired by the classic Thin Mint cookie, which is available in grocery stores nationwide. Other classic favorites have also been updated to offer fans more of what they love, from more strawberry flavor in the Good Humor Strawberry Shortcake bar to more OREO pieces in the Good Humor OREO bar to more peanut butter swirl in the Good Humor REESE'S peanut butter cup.