It Follows Movie Review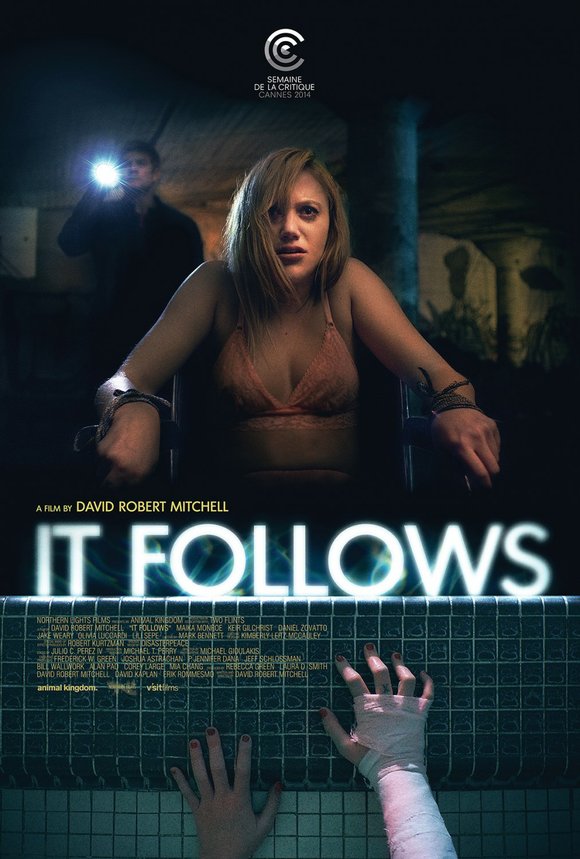 It Follows is a small budget, restricted released film that is garnering a lot of excitement lately. Directed by Robert Mitchell, it stars actress Monika Monroe. The film has been classifies as a super natural horror indie film and is currently gaining a lot of attention from Horror movie fans.
It Follows released on March 27, 2015 features a casts of newcomers Maika Monroe, Keir Gilchrist, and Jake Weary. The plot follows a young girl (Monika Monroe) who is pursued by a supernatural force after a sexual confrontation.
In this horror story the director Robert Mitchell deals with multiple themes such as: sex, guilt, and fear as the main character is inflicted with a curse of a supernatural, human like figure after having sex with a guy she hardly knows. She then learns the only way to rid herself of the curse, is to pass the curse along by having sex with another person.
Since the curse was passed onto to her through consensual sex, she becomes deeply conflicted with her decision to pass it along to someone else. Maika Monroe displays an incredible performance as we watch her character tormented thorough out the film and struggle with the idea of passing the curse to her childhood friend who volunteers to have sex with her and rid her of the curse and torment. This film unlike many other horror films succeeds where others fail. Director Mitchell's choice of style and direction allows the audience to actually care about these characters and their unique plights. You root for the main character throughout the film and feel every bit of dread , despair and hopelessness she feels as she and her friends plot to rid themselves of this evil super natural thing. This horror film really wins with the audience because it manages to play on our most natural fear of being watched and followed.

If you're looking for a thrill and you want to see something dark and scary and a little horrifying, then grab a bucket of popcorn and a date because this would be the perfect movie to fully engross yourself in. It Follows is the type of movie that does just that! Expect this film's creepy, eeriness to follow you into the night even after you leave the Movie Theatre. Filmed in Detroit, Michigan, It Follows debuted at the Cannes Film festival in 2014 to critical praise. Rotten tomatoes have it at a current rating of 95 and if you're a scary movie fan like me- you won't be disappointed!
It Follows opens this Friday, March 27 to select theatres.
Classification: Horror/ Indie / Small Budget
For more information, visit https://www.facebook.com/ItFollows