Police: 2, perhaps 3, missing in New York building explosion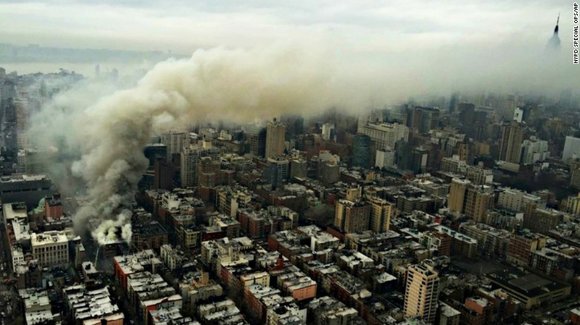 NEW YORK (CNN) -- A powerful explosion has turned a section of New York's East Village -- a vibrant and bustling neighborhood teeming with artists, college students and urban eclectics -- into heaps of rubble, pockets of smoldering flames and crisscrossing barricades.
"You rarely see a scene of such devastation in the middle of a city like this," Mayor Bill de Blasio told reporters Friday, hours after touring the block where the blast and gas-fed fire leveled three buildings the day before.
Investigators are looking into whether a gas line was "inappropriately accessed" at the building where the explosion left more than 20 people injured -- four critically -- and two more unaccounted for, de Blasio said.
One additional person may be among the missing, NYPD Chief of Detectives Robert Boyce said.
Officials provided a rough timeline of what preliminarily appears to be a "gas-related" explosion.
Gas utility inspectors checking on work in the building's basement left the premises about 30 minutes before the 3:17 p.m. blast.
A contractor and subcontractor at the building met with Consolidated Edison inspectors at 2 p.m. to discuss renovation work, city officials said. The inspectors were looking at piping to introduce gas into the building in the future.
No safety issues were found but the inspectors -- who left the building about 2:45 p.m.-- recommended changes. No gas leaks were detected. There was a second gas service working at the same building, officials said.
At 3 p.m., the owner of a sushi restaurant on the street level called the building owner about the smell of gas, Boyce said. The owner notified the contractor. Roughly 15 minutes later, the contractor and his son were investigating when the explosion occurred.
In a statement, Con Ed said the building was inspected and "records show the work of the building's plumber failed two inspections, including the inspection our personnel conducted (Thursday) afternoon."
"At no time was use of the new service line authorized by Con Edison. That service was locked to ensure that it would not be used. The ground-floor restaurant was being served by its current, smaller gas service line."
De Blasio said first responders and ordinary New Yorkers jumped in with "great acts of kindness ... and bravery."
"This city knows how to handle adversity," he said. "We never welcome it. We know it will come but we know how to handle it. People band together."
An off-duty firefighter, who has already been cited for bravery six times, was in the area and immediately climbed the fire escape in the burning building to look for residents, the mayor said.
A group of bystanders pulled a woman away from one of the collapsing structures.
"Thank God we haven't lost anyone yet, and part of it is because of these extraordinary efforts," de Blasio said.
One of those missing is Nicholas Figueroa, who was at a sushi restaurant during the time of the explosion, according to the New York police sources.
His brother, Neal Figueroa, told CNN that his family is working with authorities in the search. Nicholas failed to show up for work at Bowlmor Lanes in Chelsea on Thursday evening.