Katy Mills Invites Visitors to Tap-In and Enjoy Special Deals During Fourth Annual Wild West Brew Fest on May 2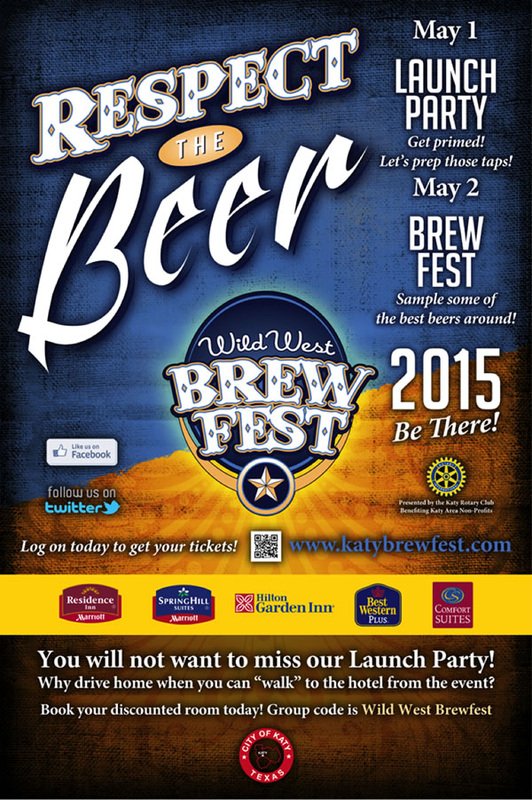 KATY, TX (03/30/15) – Katy Mills, the largest outlet and value retail-shopping destination in South Texas, invites guests to tap into a weekend of craft beers, live music and regional cuisine at the fourth annual Wild West Brew Fest on May 2. The day-long special event will feature over 200 beers and over 100 brewers along with headline entertainment featuring Texas' own country music superstars J.T. Hodges and Curtis Grimes.
There will also be an exciting pre-party at 7 p.m. on Friday, May 1 located in Hop House (VIP) located in the parking lot between Bass Pro Shops and Sun & Ski. Guests will enjoy one of a kind beer samplings specifically brewed for this event by local brewers, great food and live entertainment.
"We're looking forward to welcoming beer lovers from near and far to Katy Mills and the City of Katy to enjoy an incredible weekend of spirited fun, shopping and giveaways," said Sabrina Scruta, director of marketing and business development at Katy Mills. "As a central location with hotel accommodations within walking distance, ample parking and accessibility, Katy Mills is the ideal destination to host Wild West Brewfest, recognized as the largest craft brew festival west of downtown Houston and the second best brew festival in the country."
From nationally recognized breweries like Goose Island and Ballast Point to Houston's own Saint Arnold and No Label, this year's Wild West Brew Fest will bring over 100 regional and specialty brands together. Festival attendees can enjoy the Texas Specialty Tent, High Octane Tent serving up only 7.50% ABV, a climate controlled Silent Auction space featuring our specialty bar sponsored by your local H-E-B, Climate Controlled Hop House (VIP) featuring one of a kind beers only found in the Hop House sponsored by BB&T and Seavers Landscape, the Champion of Champions tent (featuring GABF winners and WWBF winners) sponsored by SWBC Mortgage and much more. In addition, the Wild West Brewfest is sanctioned and the principal is a member of the Brewers Association of America.
"We appreciate Katy Mills allowing us to use the space to host this spectacular event that is set to be bigger than ever before," said David Loesch – Chairman of the event. "The Wild West Brew Fest has become a highly anticipated celebration that brings craft beers lovers together while raising money for members of the community."
Presented by the Katy Rotary Club, 100% of proceeds from the Wild West Brewfest will go toward scholarships, Katy ISD and youth-related community programs, county initiatives and more. Last year, more than $67,000 was raised to help the Katy community.
Conveniently located minutes from Katy Mills, guests are encouraged to take advantage of great hotel deals at Hilton Garden Inn and Marriott Spring Hill Suites and other fine hotels. Event attendees will enjoy the close proximity to the Wild West Brew Fest and special offers can be found on www.wildwestbrewfest.com