San Jacinto College Creates Upward Mobility Ladder for Hispanic Students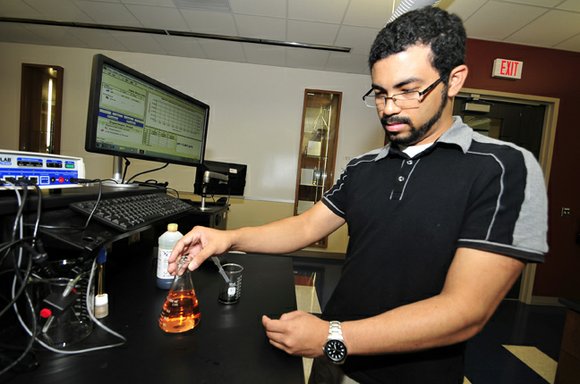 Pasadena, TX. —Hispanics make up 44 percent of the regional population; however, only 17 percent hold an associate degree or higher. Now, private industry and educational institutions are taking action to rectify this disparity and increase the number of Hispanics who earn a college education.
San Jacinto College has already taken a lead in this movement. The college exposes Hispanic students to an array of options starting in junior high school. This motivates and places Hispanics on a path for enrollment in a college. Support is provided to students to complete a certification program, an associate degree or a transfer to a four-year college. The trend is showing definite promise. In Fall 2014, Hispanic student enrollment at San Jacinto College numbered 49.4 percent compared to 28.5 percent Caucasian.
San Jacinto College approaches Hispanic students and their families before entering high school because after graduation, the likelihood of pursuing post secondary education drops off significantly. This approach leads students to learn, at an early stage, about San Jacinto College scholarships, financial aid, and flexible payment plans for course work. According to Alfredo Gil Gomes, San Jacinto College recruiter, "In most of the high schools we service, we have a full time Shared Educational Planner or counselor to assist students with their college transition and financial aid." In addition to having access to a career planner, students can take advantage of another large incentive, dual credit classes.
To build student success, San Jacinto College also creates partnerships with other entities such as College Forward. This provides mentoring and low cost or no-cost child care onsite, expanded evening and weekend class schedules, as well as an Early Degree Path program. One of San Jacinto College's largest partners is the Center for Houston's Future and the My Degree Counts initiative, which bridges Hispanic student persistence and success in post-secondary education with an emphasis on community colleges. The goal: increase graduation rates among all students, with special emphasis on Hispanics.
Dani Martinez represents a large segment of San Jacinto College's student demographics. Dani is an immigrant from El Salvador, arriving in the U.S. at an early age. Seeing the daily struggles of his parents for basic survival drove Dani to obtain a college education. Now, Dani has a well-paying job at Texas Children's Hospital and is living the American Dream. He credits the tutoring program at San Jacinto College for incubating his success.

Sandra Olivares is a returning part time student pursuing a degree in process technology. According to Sandra, "Having to juggle being a full-time student, mom, and wife was challenging. Focusing on the big picture keeps me motivated." Through mentoring and dedication, Sandra carries a 3.82 GPA and holds an internship at the chemical giant, BASF. She is using the experience to help her with her future job search.

According to San Jacinto College professor Myrna Valdez, "Hispanic students have promising careers such as petrochemical, health care, maritime, aerospace, technology, and STEM careers in general - fields where bilingual employees are needed," She said. " I think students need to understand the benefits of higher education, including better salaries, increased professional mobility, improved health, and better quality of life for family."
San Jacinto College is a leader in advancing this upward mobility. In 2014, 1,228 Hispanic students graduated with a certificate or degree compared to 1,101 white students. This is a 35.8 percent increase in four years.
Parents and students interested in more information about educational opportunities at San Jacinto College are encouraged to go online, fill out an enrollment application and speak to a representative.
About San Jacinto College:
Surrounded by monuments of history, industries and maritime enterprises of today, and the space age of tomorrow, San Jacinto College has been serving the citizens of East Harris County, Texas, for more than 50 years. The Achieving the Dream Leader College is committed to the goals and aspirations of a diverse population of 30,000 students in more than200 degree and certificate options, including university transfer and career preparation. Students also benefit from the College's job training programs, renowned for meeting the needs of growing industries in the region. San Jacinto College graduates contribute nearly $630 million each year to the Texas workforce. San Jacinto College. Your Goals. Your College.
For more information about San Jacinto College, please call 281-998-6150, visit www.sanjac.edu, or follow us on Facebook at www.facebook.com/SanJacintoCollege.