Cadillac Next-Gen V-6 Engines Led by 3.0L Twin Turbo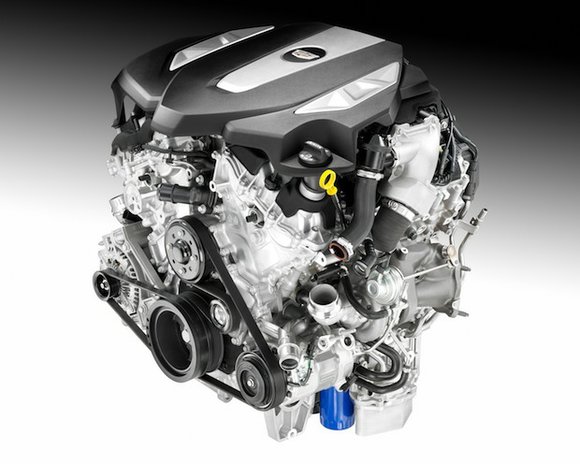 DETROIT – Cadillac announced a new generation of V-6 engines, led by an exclusive Twin Turbo V-6 that will be one of the industry's most advanced six-cylinder gasoline engines. It leverages the latest technology to balance efficiency, performance and refinement in the upcoming, top-of-the-range CT6 luxury performance sedan.
The all-new Cadillac 3.0L Twin Turbo is designed to achieve new thresholds of refinement and specific output for the brand's new prestige luxury sedan, which makes its world premiere March 31, at the New York International Auto Show. Production begins late this year at General Motors' Detroit-Hamtramck Assembly Plant.
Peak output is estimated at 400 horsepower (298 kW) and 400 lb-ft of torque (543 Nm), making it one of the most power-dense V-6 DOHC engines in the world, developing 133 horsepower (99 kW) per liter.
The 3.0L Twin Turbo is the only six-cylinder engine to combine turbocharging with cylinder deactivation and stop/start technologies to conserve fuel. Cadillac expects the combination to enhance fuel economy by up to an estimated 6 percent. Cylinder deactivation temporarily deactivates two of the cylinders in light-load driving conditions to enhance efficiency and seamlessly reactivates them when the driver demands full power.
With the stop/start system, the 3.0L Twin Turbo is shut down in certain driving conditions such as stop-and-go city driving to reduce fuel consumption, automatically restarting when the driver takes his or her foot off the brake pedal.
"Cadillac's elevation on the world stage is driven in great part by its advanced powertrain technology and the all-new 3.0L Twin Turbo powers past the traditional segment leaders with higher degrees of the performance and refinement their reputations were built on," said Rich Bartlett, assistant chief engineer.
The highly-acclaimed Hydra-Matic 8L90 eight-speed automatic transmission transfers the 3.0L Twin Turbo's power to the CT6.
Similar to the turbo system in the track-capable Cadillac ATS-V, the new 3.0L Twin Turbo features turbochargers with lightweight, low-inertia titanium-aluminide turbine wheels and an efficient, patented low-volume charge-air cooler, which contribute to optimal boost production and more immediate power delivery.
The advanced, low-inertia turbochargers enable the engine to sustain peak torque from 2,500 rpm to 5,000 rpm, giving it a broad torque curve that is conveyed to the driver through a feeling of responsive, sustained power across the entire rpm band.
"Torque is the pulling power of an engine and the new 3.0L Twin Turbo delivers it with confidence-inspiring smoothness and progression," said Bartlett. "In fact, the potency of the torque across the rpm band is matched only by the satisfaction of the horsepower created as those revs climb quickly to 6,500 rpm."
The 3.0L Twin Turbo's estimated 400 horsepower and 133 hp per liter is 27 percent greater than the BMW 740Li's 3.0L turbocharged I-6 (315 hp and 105 hp/L) and 29 percent more than the Audi A7's 3.0L supercharged V-6 (310 hp and 103 hp/L).

All-new architecture
Cadillac's new 3.0L Twin Turbo is part of a new generation of technologically advanced V-6 engines, which includes a new version of the award-winning 3.6L naturally aspirated engine employed for years across the brand's model range. Each features all-new structural and combustion elements designed to complement higher performance and greater efficiency with exceptional quietness and smoothness.