Houston Artist Tara Conley Celebrates Houston Police Department's Community Commitment with 35 New Sculptures at the South Gessner Division Police Station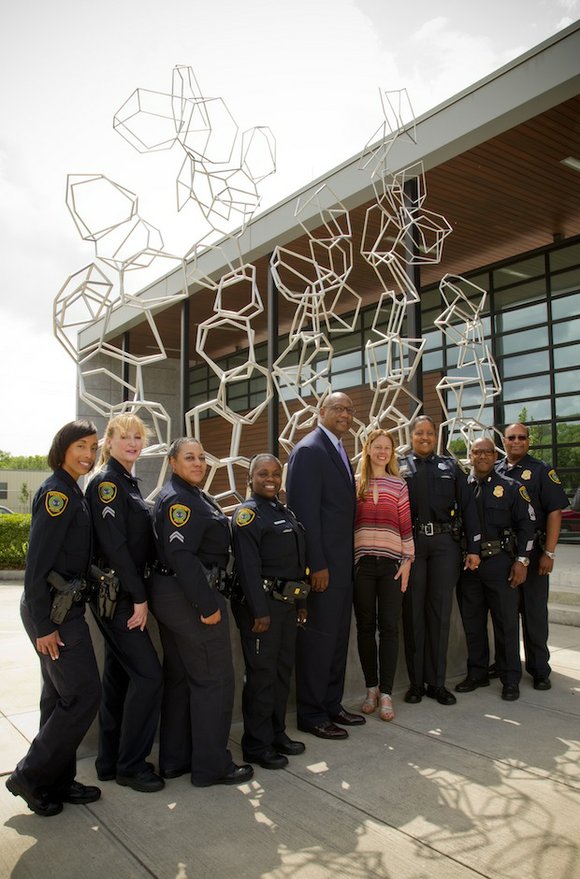 Houston, Texas – On Tuesday, May 5, civic leaders and community members celebrated Houston artist Tara Conley's permanent installation of 35 sculptures at the South Gessner Division Police Station. Commissioned by Houston Arts Alliance (HAA) in partnership with the City of Houston, this permanent installation is the newest addition to Houston's art collection.
Houston Chief of Police Charles A. McClelland, Jr. and City Council Member Larry Green were both on hand to talk about the important work of the Houston Police Department and its community involvement.
"As the city's local arts agency, Houston Arts Alliance is committed to creative placemaking across the city—with public art appearing in the most unexpected places," stated HAA President + CEO Jonathon Glus. "We are very pleased with Tara's installation in its aesthetic beauty as well as how it symbolically reflects the dedication of the officers housed at the station."
"In learning about the patience, tolerance and vigilance police officers must exercise to do their job well, I was inspired to create sculptures that would transform their workspace in unexpected ways and encourage them in their day-to-day tasks," explains artist Tara Conley.
The towering 18-foot stainless steel outdoor sculpture at the front entrance of the station is entitled "We Are in the Business of Changing the World, SS." Its abstract, honeycomb design illustrates the relationship between police officers and the Houston community. Inside, the public lobby holds the second major work, "We Are in the Business of Changing the World, SG," also of a honeycomb design, but composed of steel and colored glass, referencing the diverse communities within District 17.
In addition, "You Have the Right to Remain Silent" is a series of 33 sculptural, hand-written inspirational phrases cast in bronze that are installed in throughout the station. These phrases range from "Strength and Honor," to "It's We, Not They", and "You Can't Spill Milk in One Place," but all are tied to HPD's core philosophy: "Order through law; justice through mercy."
"For over 15 years I've collected phrases I've heard people say aloud," explains the artist. "I chose phrases from my collection that will shed light on the role of police within the community. Wise, reflective and witty, each phrase casts a shadow on the wall like the echo of a voice once heard and collectively they establish a work environment that is both introspective and challenging."
Conley's proposal was selected for this commission through a rigorous, peer panel review process. Funding for this civic art project was derived through the 1.75% civic art allocation from the eligible Capital Improvement Program (CIP)—in this case, the construction of the new South Gessner Division police station.
ABOUT TARA CONLEY
Tara Conley works with fiber, steel, bronze and fiberglass, often mixing materials and processes in surprising ways. She has an extraordinary knack for creating organic, yet original, shapes from man-made materials, adding a delightful sense of humor and wonder to the mix. Conley has produced a collection of cast bronze phrases in curvilinear script, which hang a few inches from the wall and cast a shadow, like an echo of the voice once heard. Originally from New York state and a graduate of Rochester Institute of Technology's School for American Crafts in Metalsmithing and Jewelry, Tara Conley lives and works in Houston, Texas. In 2013 she and artist Joe Barrington completed the largest public art commission from Texas Tech University for the Rawls College of Business Administration. The sculptural environment incorporated overarching lit stainless steel pipes to emulate the stock market, four of Conley's phrases etched in limestone, commodities icons in bronze and Barrington's bull and bear sculptures. "My Life as a Doll", an 800 square foot installation, was a successful combination of Conley's sculptures and collected phrases perfectly placed in a large scale book, large enough to walk through, and exhibited at Diverse Works Art Space in Houston with collaborator, Tria Wood. Exploring ideas on gender and identity the installation was transformed and shown again in Conley's first museum exhibition, January 30 –April 12, 2015 at the Houston Museum of African American Culture. The show was accompanied by the documentary, "Telling the Truth in an Imaginary Place" by filmmaker, Sharon Ferranti. Currently, Conley's outdoor sculpture, "Bunny" may be seen on Heights Boulevard at 16th Street as part of the "True South" exhibition through December 15, 2015. Conley is also included in Texas Artists Today by Catherine Anspon and Touching Fiber Arts by Carol Ikard and Jacque Smith for the Texas Museum of Fiber Arts. For more information about artist Tara Conley, visit www.taraconleyart.com.
ABOUT HOUSTON ARTS ALLIANCE
Houston Arts Alliance (HAA) is a public-private initiative that invests in Houston's arts and cultural sector, advances Houston's reputation as an arts and culture destination, and works to elevate the quality of life for all Houstonians through arts and culture. As the city's designated local arts agency, HAA provides programs and services for the arts and cultural sector and awards approximately 225 grants annually to nonprofit arts and cultural organizations and individual artists. The Alliance is the custodian of the city's art collection; takes permanent and temporary art to Houston's public spaces; presents free Folklife + Traditional Arts programming; nurtures up-and-coming arts organizations through its capacity building initiatives; bridges business with the arts; convenes the field as necessary, and provides the latest information and research on cultural policy, economic development and Houston's folklife.
HAA's primary partner is the City of Houston. Approximately 55% of HAA's budget comes from Hotel Occupancy Tax and 30% from the City of Houston's Percent for Art Program, which supports commissions of new civic art projects as well as conservation of existing artworks. The remaining 15% of HAA's budget comes from private fundraising (grants/contributions/other revenue) for programs and special projects. HAA is committed to raising funds for only those projects and initiatives that the Arts Alliance is uniquely positioned to provide the community.
For more information, visit houstonartsalliance.com. For events in the region, visit Artshound.com.