Seeking to court evangelicals, Bush delivers commencement address at Liberty University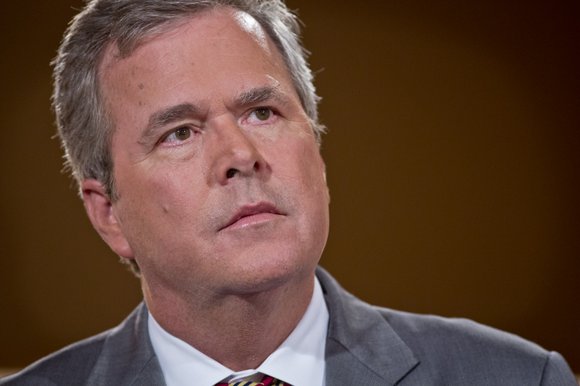 (CNN) -- Seeking to burnish his credentials with evangelicals ahead of his likely presidential campaign, Jeb Bush delivered the commencement address at Liberty University on Saturday, offering a defense of Christian values that he said "still provide the moral vocabulary" in America.
The former Florida governor and converted Catholic, who has tried to position himself as a moderate Republican, is looked upon warily by many evangelicals for some of his political positions, including his increasing openness to same-sex marriage.
But on Saturday, he touched on a range of subjects in speaking to the estimated crowd of 34,000 at Williams Stadium, including abortion and the oppression of Christians around the world.
"Wherever there is a child waiting to be born, we say choose life, and we say it with love," he said to applause. "Wherever women and girls in other countries are brutally exploited, or treated as possessions without rights and dignity, we Christians see that arrogance for what it is. Wherever Jews are subjected to the oldest bigotry, we reject that sin against our brothers and sisters, and we defend them."
Bush, who received a warm, if at times tepid, reception, earned his loudest applause when he spoke of what he viewed as the encroachment of government against religious freedom.
"There are consequences when you don't genuflect to the latest secular dogmas. And those dogmas can be hard to keep up with. So we find officials in a major city demanding that pastors turn over copies of their sermons. Or federal judges mistaking themselves for elected legislators, and imposing restrictions and rights that do not exist in the Constitution. Or an agency dictating to a Catholic charity, the Little Sisters of the Poor, what has to go in their health plan -- and never mind objections of conscience.
"I don't know about you, but I'm betting that when it comes to doing the right and good thing, the Little Sisters of the Poor know better than the regulators at the Department of Health and Human Services," he said.
Bush's speech at Liberty comes after he recently courted Hispanic evangelicals in Texas. He has not yet said when he plans to announce his candidacy -- which is largely viewed as all but certain -- and in the meantime, he is able to raise money for the Right to Rise super PAC backing his candidacy as he hopes to amass a sizable war chest before mounting an official campaign.
Founded by former Southern Baptist pastor and conservative political commentator Jerry Falwell, Liberty University emphasizes traditional conservative Christian values and beliefs.
The school is now a magnet for Republican presidential candidates and politicians, often times during their campaigns as they're looking to enhance their support among evangelical voters.
Seeking to make amends for derogatory comments made during a 2000 speech, including claiming Falwell to be an "agent of intolerance," Sen. John McCain visited Liberty as the commencement speaker before his presidential nomination in 2008.
In September 2011, Texas Gov. Rick Perry spoke during the school's convocation. Minnesota Rep. Michele Bachmann also addressed the student body later that same month. Both made bids as GOP presidential candidates.
Then-Republican presidential candidate, Mitt Romney, gave the 2012 commencement address to more than 14,000 graduates. Romney, a Mormon, sought to dissuade any concerns Christians had regarding his faith.
And in March, Texas Sen. Ted Cruz became the first Republican to formally enter the 2016 presidential race when he announced his campaign at the university.
Originally known as Lynchburg Baptist College, the institution was established in 1971 when Falwell challenged his congregation at Thomas Road Baptist Church in Lynchburg, Virginia, to create a Christian school from which students could "go out in all walks of life to impact this world for God."
Liberty University is ranked among the top 100 colleges, according to U.S. News & World Report's 2015 classification of best higher learning institutions.
For more information go to http://www.cnn.com