Jeb Bush stands firm on immigration, Common Core in Fox News interview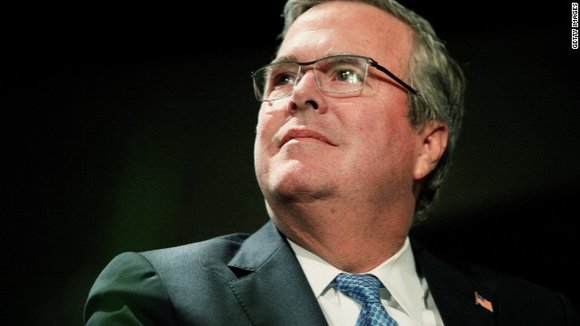 WASHINGTON (CNN) -- Jeb Bush isn't backing off positions on immigration and Common Core -- and says people should "chill" on the polls, which show those issues causing him problems among conservatives.
The former Florida governor's support for overhauling U.S. immigration laws -- including backing a path to legal status for undocumented immigrants -- is thought to be among his biggest challenges in courting Republican presidential primary voters.
In a Fox News interview with Megyn Kelly that aired Monday night, Bush said he still favors "allowing for a path to legalized status -- not necessarily citizenship" for those immigrants.
While Bush said he would undo President Barack Obama's executive actions to forestall deportation for "Dreamers," or young adults brought into the United States as children, and the undocumented parents of U.S. citizen children, his critique was of Obama's process of using executive power, not the policy moves. He said he'd like to see those changes adopted by Congress.
And he said he favors allowing undocumented young adults to qualify for in-state tuition at universities because "there's a point past which we're over the line."
"If you've been here for an extended period of time, you have no nexus to the country of your parents, what are we supposed to do? Marginalize these people forever?" Bush said.
Bush has urged a respectful tone toward undocumented immigrants and has said it should be easier for those immigrants to gain legal status.
That position is anathema to much of the party's conservative base, which opposes "amnesty" in any form -- particularly the Obama's executive actions.
But the former Florida governor took a shot at Wisconsin Gov. Scott Walker, though not by name, for changing his position on immigration. Walker once supported a pathway to legal status for undocumented immigrants, but has said he's changed his views -- and even recently called for limits on legal immigration.
"Do you want people to just bend with the wind, to mirror people's sentiment, whoever's in front of you?" Bush said. "'Oh yes, I used to be for that, but now I'm for this' -- is that the way we want to elect presidents?"
Bush's perspective differs from much of the GOP field: He lives in Miami, has a Mexican-born wife and has said his family speaks Spanish at home. His brother, former President George W. Bush, previously supported immigration reform efforts.
Another Florida Republican presidential candidate, Sen. Marco Rubio, also supported efforts to ease immigrants' ability to attain legal status -- though he's since backed off that position as Republicans have grown increasingly critical of Obama's handling of the issue.
As Republicans shift to the right, Democratic front-runner Hillary Clinton has run as far to the left as possible, saying undocumented immigrants should be allowed to become U.S. citizens and that she'd try to go further than Obama in using her executive authority to aid immigrants.
Though a politically challenging position for Bush in his likely GOP primary campaign, a moderate immigration position would serve him well in a general election campaign as Hispanic voters are the most rapidly growing voting bloc.