A Runway Extravaganza Benefiting BCRC - Art Bra Austin 2015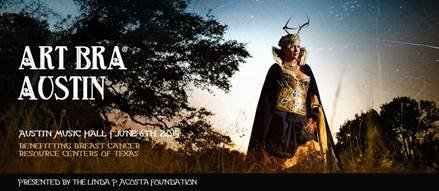 Houston, TX (May 12, 2015) - After her successful "I Cast 2 Empower" Exhibition last November, where casts of breast cancer survivors and supporters were transformed into works of art to benefit MD Anderson Cancer Center, Artista is excited about lending her talents to support another worthy breast cancer event.
Widely known for her body sculpture art, award winning Houston artist Artista Elisabet's Art Bra Sculpture submission has been selected by the jury to be featured in the LIVE Auction at Art Bra® Austin 2015. The remarkable Art Bra Sculpture will be modeled by Breast Cancer Survivor Eden Lackey, in the Runway portion of the show and will benefit Breast Cancer Resource Centers (BCRC). The 4th annual runway extravaganza will take place on Saturday, June 6th at the Austin Music Hall.
The ornate winged piece was constructed from feathers acquired from the very place that adorns the Victoria Secrets' runway shows. With Eden Lackey, an Austin resident and breast cancer survivor, also a model for the inaugural "I Cast 2 Empower" Exhibition, Artista Elisabet has collaborated in honor of Eden's friend Toni. Eden will strut her stuff on the Austin runway to model this very unique and beautiful art bra sculpture piece.
"Eden and I created this masterpiece and collaborated in honor of her dear friend Toni who was in hospice suffering from stomach cancer. She referred to Eden as her angel on Earth and loved butterflies – so we incorporated those themes in the piece." Unfortunately, Toni succumbed to her battle on April 7, 2015.
ABOUT ART BRA® AUSTIN
Art Bra® AUSTIN is an annual juried art/design competition. Talented artists, designers, and jewelers submit their original works of wearable art to be showcased by a dynamic group of Art Bra® Austin Models. Approximately 70 pieces are selected from over 100 submissions to be offered for auction the night of the event. The top submissions are auctioned live during the runway show with winning bids as high as $8,500 for these one-of-a-kind creations.
ABOUT ARTISTA ELISABET
Artista Elisabet is a well renowned local visual artist in the Houston area who specializes in body sculptures. Originally from Europe, she has called Houston home for several years. The multi-talented artist is trilingual (Spanish, German and English), and continues to make her mark in the art world inspiring and empowering others through her creativity.