Self-driving cars keep crashing; Google pins blame on humans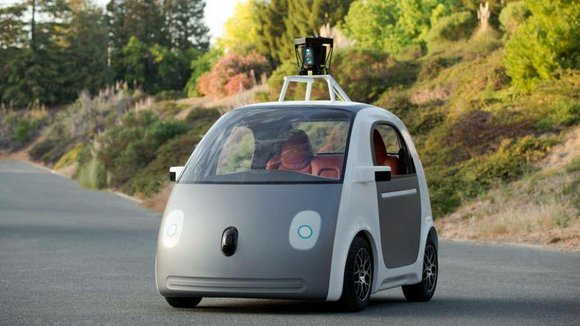 Privacy group hits Google
The exact circumstances of Google's crashes remain unclear.
Two of the four crashes reported to the California Department of Motor Vehicles since September took place with cars in self-driving mode, according to the AP report. The other two occurred while the cars were under human control.
By policy, the California DMV does not disclose the details of accidents involving self-driving cars. Google would not share details on its crashes, including the date, location and specific circumstances under which they occurred.
That prompted a complaint from the California advocacy group Consumer Watchdog, which says the public should know about the safety record of self-driving cars. John Simpson, director of the group's privacy project and a frequent Google critic, said it is ironic for Google, whose mission statement is to "organize the world's information and make it universally accessible," to keep its accident records secret.
"Google has engaged in a highly visible public relations campaign extolling the supposed virtues of driverless cars," Simpson wrote in an open letter to Google CEO Larry Page and Chairman Eric Schmidt. "It is incumbent upon you to be candid about the cars' failings and shortcomings as well."
Delphi's police report
Delphi, which is working on self-driving cars to license the technology to automakers, confirmed that one of its test cars was involved in an accident last fall. Kristen Kinley, a Delphi spokeswoman, said no one was injured in the crash.
"While operating in manual mode and stopped at an intersection, our car was struck by another vehicle that traveled across the median," she wrote in an email. "A police report indicates the fault of the accident is with the second vehicle. Not Delphi."
A copy of the police report provided to Automotive News shows that the accident occurred on Oct 14 in Palo Alto, Calif., about half a mile from Delphi's Silicon Valley r&d center in Mountain View, Calif., and 1 mile from Google's headquarters.
The report says Delphi's test vehicle, a black Audi SQ5, was stopped in a left-turn lane when it was broadsided by a silver Honda Civic that crossed the concrete median. The police officer who filed the report concluded that the Civic's driver was at fault.
Delphi's testing has moved forward since then.
For more information go to http://www.autoweek.com
In late March, ahead of the New York auto show, Delphi took a self-driving SQ5 on a cross-country road trip from Mountain View to Manhattan. The car completed the journey without any major problems.
"We observed that our vehicle is a bit skittish around semi trucks," Kinley said. "We also were passed by lots of unhappy drivers," she added, "because our car always obeys the speed limit and is extra cautious."