Snoop Dogg Performs Live On The Honda Stage At iHeartRadio Theater LA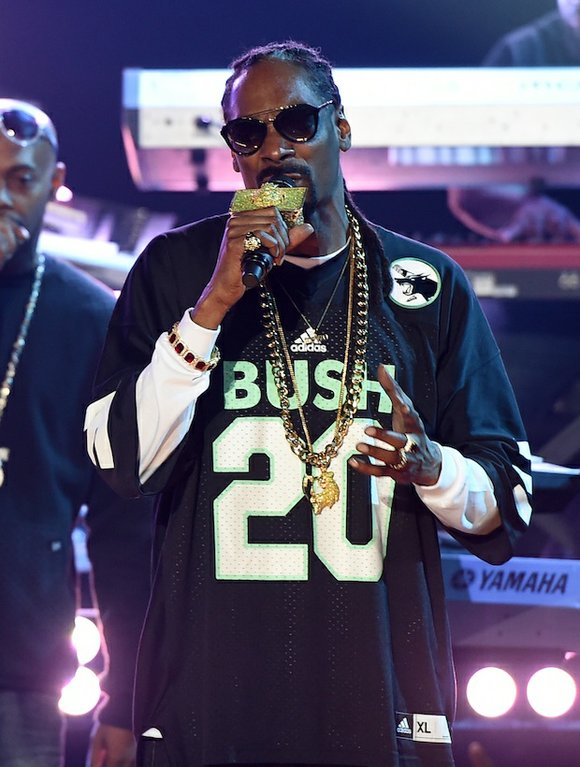 Last night, Snoop Dogg proved that even after 13 solo albums he truly is a musical chameleon. Snoop performed new tracks such as "Peaches N Cream" and "California Roll" from his funk inspired new album Bush, released today. Hosted by Big Boy of L.A.'s hip hop and R&B station Real 92.3, the event included an intimate Q&A with album collaborator Pharrell Williams. The event was broadcasted live on all iHeartMedia Urban/Urban AC and Rhythmic Contemporary Hit radio stations nationwide or via its live stream on iHeartMedia station websites as well as iHeartRadio.com/HondaStage.
Highlights from the evening include:
· Snoop opened the show with a Q&A with Pharrell Williams discussing the making of his new album, Bush.
· Snoop and Pharrell explained that they continue to collaborate because they truly enjoy working together. Neither of them have an ego so it makes it a comfortable and creative environment to work.
· Big Boy joked that when he last interviewed Pharrell, he had said that Snoop's new album was better than his. To which Snoop agreed and was met with laughs and cheers.
· Snoop began the show by performing crowd pleasing tracks, "I Wanna Rock," "Tha Shiznit," and his rap verse from 50 Cent collaboration "PIMP."
· The crowd got funky with his 70's inspired new single "Peaches N Cream."
· Snoop and Pharrell turned up the energy in the crowd performing fan favorite "Drop It Like It's Hot."
· Pharrell exited the stage, as Snoop continued on with even greater intensity performing classics "Next Episode," "G Thang," and a mashup of "Gin and Juice" and "Try Me."
· He continuously engaged the audience with personal stories and jokes before each song.
· Snoop segued into in a mash up of some of his most notable collaborations performing "I Wanna F* You," and "California Gurls."
· He had the crowd join in with him in support of his fallen friend, Tupac, chanting "We love you Tupac."
· Snoop gave the crowd a hit of nostalgia by closing the show with throwbacks "Aint No Fun" and "Who am I (What's My Name)?"
· Before finishing his set he told the crowd that there is so much negativity in the world, that he wanted to leave them with positivity, reaching out to fans and signing autographs as Bob Marley's iconic song of peace and celebration "Jamming" played in the background.
Set List
I Wanna Rock

Tha Shiznit

PIMP

Peaches N cream

California Roll

So Many Pros

Drop It Like It's Hot

Ups and Downs

Let's Get High

We Can Freak It

Next Episode

G Thang

Bitch Please

Pump Pump

You And Your Friends

Gin and Juice w/ Try Me

I Wanna Fk You

California Gurls

Aint No Fun

2 of Americas Most

Jump Around

Who Am I (What's My Name)?

For more information, visit iHeartRadio.com/HondaStage.