Houston Matchmaker is May's Cover Story for Real Housewives of Houston Magazine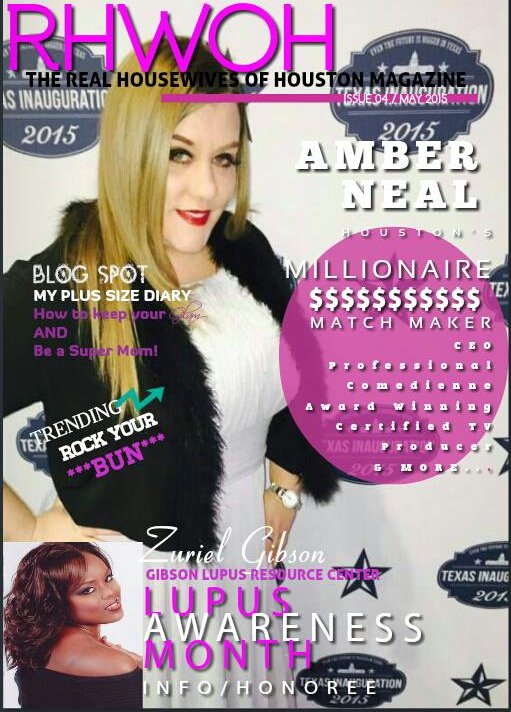 Houston, Texas. – Amber Neal has been dubbed "The Millionaire Matchmaker of Houston" by various media outlets. It is her latest accolade, however, that has her revealing in her local roots. Neal is the cover story for the May edition of Real Housewives of Houston Magazine. In the publication, Neal is asked everything and anything about her personal life, the romantic lives of her clients, and her latest venture into digital television- which includes Meemee.tv where her video broadcasts are currently hosted and interactive webinars are in the works.
"It's always an honor to work with the local media, never mind be featured on the cover of such a celebrated magazine. I want everyone to know how excited I am to move my brand into the digital age of television at such a competitive time when streaming TV is more relevant than ever," said Neal. "Traditional networks are fighting for material and viewers. I've been blessed in many ways, including having Meemee.tv as a platform to engage directly with my audience and create real relationships with my audience and for my clients."
Amber Neal's traditional TV and press appearances include The Tonight Show with Jay Leno, ABC World News 20/20 with Barbara Walters, ABC Local 13, News 2 Houston-Channel 2,Fox 26, KHOU-Channel 11, WB39, Houston Chronicle, Houston Press, Culture Map, and The Examiner! She is now writing a Relationship Column and is on the Advisory Board of Texas Oil & Gas Magazine. Check out her latest articles at www.texasoilgasmagazine.com
"I read Real Housewives of Houston Magazine and I'm always keeping up with what's going on with other powerful women in our community. I believe listening to married, divorced, and steadily single women talk about experiences and challenges allows us to really reflect on what we want in a partner vs. what we've been seeking out or expecting from a partner," finished Neal.
Members of the press can request the PDF web file of Amber Neal's cover story or a follow up interview with her on either the magazine feature or her new digital TV channel stream by utilizing the contact information found within this release.
ABOUT AMBER NEAL Amber Neal was born in Houston, but grew up part of her life in North East Texas. Amber has been coined "The Innovator" in the dating industry. She has been helping singles for over 10 years dishing out tough love to her clients for many years. Amber is an award-winning Journalist, Author, & Producer of A Match Made in Houston Talk Show.
For more information about Neal, you can visit her website which has a link to her social media. www.ambernealpresents.com