Finding the Fitness Theory
Jade Gold | 5/14/2015, 2:42 p.m.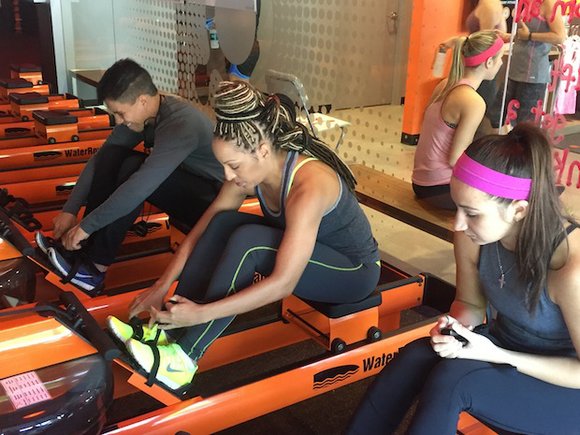 It's Monday morning 6:30am and you are naked about to get dressed for another day at the office. You are looking in your closet struggling to find the right outfit because none of them are fitting right anymore. It dawns on you another month has come and gone and you notice every inch, every pound, every resolution you made to loose weight at the first of the year has gone to wayside. Your "waist-side" to be exact and now your feeling defeated, maybe frustrated and even downright depressed. The summer is just around the corner and your thinking of every outfit you can't wear. There's still a small glimmer of a nagging thought in the back of your mind that says, "I have to do something, but I'm just not into working out and I hate myself for not doing better." You have summarized that the best THEORY you can come up with is loosing weight is just too much work and it takes too much time. Right?
WRONG! That couldn't be further from the truth and I'm excited to share a NEW theory in the fitness game that is sure to bring a more "juicy" concept to your fitness frustration. OrangeTheory that is!

Personally, I know exactly what it feels like to go through the mental battles of weight loss and even just downright disliking the process of daily cardio and weight lifting. So I decided to squeeze out a little more motivation and try OrangeTheory myself to see what all the hype was about. I had the opportunity to sit down with the friendly staff at the newest location in Town & Country one morning and they put me through a 1-hour session so I could experience the theory on my own. Here's what the owner Jim Potesta had to say about this amazing fitness concept.
Jade: What is the concept behind OrangeTheory?
Jim: This concept originated out of Ft. Lauderdale, FL by a gentleman named Dave Long who is the C.E.O of the company. It started with a simple concepts of Pilates and spin classes and then developed into a concept that is now a 1-hour total body workout paired with technology that give our clients the best possible results. We have 210 studios nationally, 250 licenses sold and this is a franchise. This month is our 5-year anniversary for us and we are in 6 different countries and there are 5 locations currently open in Houston.
Jade: Who would benefit from OrangeTheory workouts?
Jim: Our demographics range from 25-42 but we see over 50 as well. 70% are women and about 30% are men
Jade: Do you offer 1-time class sessions, memberships or packages?
Jim: Yes we do all of the above! We offer packages in 10, 20, 30 or unlimited membership. What we suggest is that people come in and try our concept out for FREE and take a 1-hour session to see why we are different than just joining another gym.
Jade: How do you see OrangeTheory being different from any other gym workout?