Rienzi Hosts Family-Friendly Summer Programs
Join the fun on Wednesdays and Sundays in June and July, 2015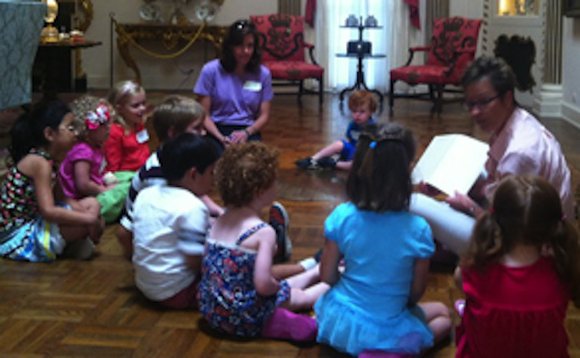 What: On select Wednesdays and Sundays this summer, Rienzi invites families to come together to create art, write and read stories, and watch performances inspired by the collection of the MFAH house museum. Two family-friendly programs, Storytime Tours and Summer Fine Arts Workshops, continue at Rienzi through July.
Programs: Storytime Tours
Wednesdays, June 3, 10, 17, and 24, 2015, from 10 to 11 a.m. Wednesdays, July 1, 8, 15, and 22, 2015, from 10 to 11 a.m. This summer, introduce children to the magic of art and literature in the intimate setting of Rienzi, the Museum of Fine Arts, Houston, house museum. During this fun and interactive activity, children gather in the galleries to hear readings from stories related to themes highlighted in the Rienzi Collection.
Summer Fine Arts Workshops
On three select Sundays in June and July, Rienzi offers free Summer Fine Arts Workshops. Each with a unique, family-friendly theme, the workshops are inspired by objects and stories found in the Rienzi Collection.
A Family Story: Writers' Reflections
Sunday, June 14, 2015, at 1 p.m.
Families read, write, and create during this engaging afternoon. Led by instructors from the School Literacy & Culture program at Rice, visitors learn the story of Rienzi's family and are encouraged to compose their own stories. Younger children dictate and dramatize their tales, while older students write poetry and prose.
Fancy Nancy's Artsy Adventures
Sunday, July 12, 2015, at 1 p.m.
Grab some glitter glue and create your own fancy paper dolls and accessories, inspired by the elegant portraits of 18th-century men and women in the Rienzi Collection. Following the art-making activity, families enjoy a mini-performance from Main Street Theater's production of Fancy Nancy. Children are welcome to dress in their fanciest attire!
Rumpelstiltskin: A Marionette Performance & Puppet Making Workshop Sunday, July 19, 2015, at 1 p.m. Families enjoy an afternoon of entertainment as the evil elf Rumpelstiltskin works his magic turning straw into gold. This classic fairytale from the Brothers Grimm's 1812 edition of Children's and Household Tales is told through beautifully crafted string puppets from the Texas Marionette Playhouse. A puppet-making
workshop follows.
Where: Rienzi / 1406 Kirby Drive
Free, limited parking is available at Rienzi or on Lazy Lane in River Oaks.
Details: Admission to both programs is free. Visit www.mfah.org/rienzi for more information. As space is limited, reserve your spot by calling 713.639.7800.
Background: Rienzi, the MFAH house museum for European decorative arts, is the former home of philanthropists Carroll Sterling Masterson and Harris Masterson III. Opened to the public in 1999, Rienzi houses a substantial collection of European decorative arts, paintings, furnishings, porcelain, and miniatures. Rienzi welcomes some 19,000 visitors throughout the year for tours, family programs, lectures, concerts, and a variety of special events.
Funding: Education programs at Rienzi receive generous funding from the Sterling-Turner Foundation; The Brown Foundation, Inc.; the Carroll Sterling and Harris Masterson III Endowment; and the Caroline Wiess Law Endowment for Rienzi.
For more information, visit www.mfah.org/rienzi