Stunning Showgirls and Sideshow Freaks: Houston's Burlesque Queen Is At It Again
KiKi's Sordid Sideshow takes over Warehouse Live Saturday, July 18th 2015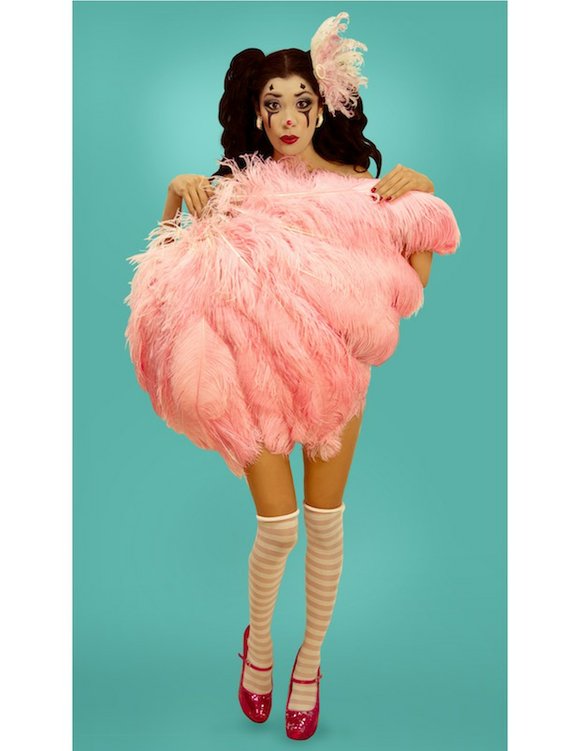 HOUSTON, TX. May 13, 2015- Couldn't get tickets to January's Bayou City Burlesque & Circus Arts Festival? You're not alone. The inaugural event broke records, selling out Warehouse Live and leaving many out in the cold. Not one to disappoint, the festival's producer KiKi Maroon, has put together another event for those who can't wait for next years festival.
John Wayne, host of the NBSD Podcast said, "To experience what you get at 'KiKi's Sordid Sideshow' you would have to travel from New Orleans, to Carnivale, to Vegas, to the circus, and back again all in one night." Thankfully, those in Houston won't have to travel so far because 'KiKi's Sordid Sideshow' is taking over Warehouse Live Saturday, July 18th. The show is famous for bringing together an eclectic mix of performers from all across the country for one of a kind, one night only events. The next edition is slated to be the largest production yet, featuring stilt-walking showgirls from the New Orleans Snake Oil Festival, Bump n' Grind burlesque dancers from Austin, and sideshow freaks from AMC's 'Freakshow' (just to name a few).

The event will be hosted by Houston's own award-winning burlesque performer, producer, and radio personality KiKi Maroon, whose famous "Martini Act" will be making its international debut in Italy just two weeks after the Warehouse Live show. "None of this would be happening if I didn't live here. The very first Sordid Sideshow was just me and some friends on the Boheme patio. A few years later, we're producing events in major venues and I'm about to be one of only two Americans competing in Italy's Queen of Burlesque Festival. It's a testament to how amazing Houston is. This city not only embraced my weirdness, it gave me the resources to make it my career."
The Houston burlesque scene is diverse and expansive, evident in the recent expansion of Prohibition's downtown location, monthly shows at Numbers and Mr.Peeples, and the sold out burlesque festival last January. Each carves out a place for themselves by focusing on different style of the art. 'KiKi's Sordid Sideshow' features the best all of those genres. The show blends old style burlesque, vaudeville-like performances, and daring circus feats all revamped with a sexy sideshow twist.
Tickets are available at Warehouselive.com or SordidSideshow.com starting at $20. Those high rollers wanting the best seats in the house as well as early entry to the show and gift bags full of swag can pick up a VIP package for $50. The VIP's will also be invited on stage after the show to take pictures with the performers and get a chance to win gifts from the event's sponsors, like a wine tasting package from The Corkscrew Wine Bar or a vacation from Wings R' Waves travel agency.
Is this a show for everyone? KiKi Maroon thinks so, "Growing up doesn't mean you stop wanting to run away with the circus. It just means that now the circus can include a woman bathing in a 6 foot tall martini glass. Who doesn't want to run away with that?!"
Information and Tickets: