A Streetcar Name Desire was Beautifully, Poignant and Brilliantly Poetic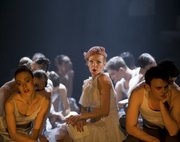 The award winning Scottish Dance Company graced the Wortham Theatre stage last weekend with it's famed production of A Streetcar Named Desire by Tennessee Williams– and it was everything a true fan of the play would have wanted.
Tennessee William's classic play, A Streetcar Named Desire is a tale set in the French Quarter following World War 2 , and tells the heart wrenching story of a neurotic, broken woman named Blanche Dubois who soon discovers after marrying her fiancé that he is gay. Her lover despondent over her rejection tragically takes his own life. Blanche then tries to escape her own despair by leaving her small town to New Orleans. It is in New Orleans where she moves in with her younger sister Stella and attempts to start a new fresh start. However, while embarking on her new life she meets several shady men and falls into a destructive pattern of alcoholism and promiscuity. She soon realizes her new life is much harder to reinvent, as she is haunted with visions of the ghost of her husband. She also struggles to deal with a newly tainted reputation because of her loose sexual ways. You see her brokenness as she falls further from grace consoling her feelings of unworthiness with alcoholism.
This is not your typical light hearted Ballet and if you are familiar with the story you also know that Tennessee Williams classic tale is filled with cinematic themes of sex, death, booze, and Jazz, -everything needed for a great climatic story. The Scottish Ballet and its wonderfully, talented dancers do a brilliant job of telling this compelling story with imaginative stage design, a momentous jazz score and passionately filled, poetic dance.
Winner of numerous awards including; Critics' Circle National Dance Awards, Best Classical Choreography, A Streetcar Named Desire of the Scottish Ballet is a first time collaboration with Director Nancy Meckler –the first woman to ever direct at the National Theatre, and rising star choreographer Annabelle Lopez Ochoa. This dynamic team along with the talented musician Steven Salem, who composed the production's entire compelling jazz score, brought together a truly magnificent dance interpretation and artistic approach of the classic play. The production has reached critical acclaim across the world and it's a huge favorite among the dance and theatre community. Much of the production success I believe lies solely with choreographer Ochoa's vision, and her profound ability to illustrate the musical texture beneath the melody with dance. Ochoa's choreographic ability is genius and her unconventional, dark and edgier style of dance movement is pushing the boundaries of what we typically view in classical Ballet. Not only does her style of choreography goes further than being unique, but it develops into an observation of emotion and human relationships, it is quite frankly a Ballet like you have never experienced before and I was on the edge of my seat the entire performance!
Stand out performances of the night included principle dancer Eve Mutso (Blanche Dubois), gut-wrenching portrayal of a woman gone mad. The gifted Eve Mutso has been with the Scottish Ballet since 2003 and she earned a spot as a principle dancer during her tenure in this role. She plays the title character with such strength, and raw passion, and that she deservingly received a Critics Circle national award in 2012 for "Best Dancer" in her role. Mutso's style of dance evokes such intense emotion you are enchanted with her as soon as her point shoes embrace the stage. She is incredible to watch while on stage and delivers and carries tragedy effortlessly in her dance and throughout her entire performance. She is truly a remarkable upcoming star of the dance scene and her performance is one not to be missed!