Ringling College of Art and Design Announces 2015-2016 Trustee Scholars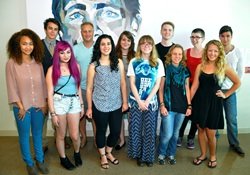 Sarasota, FL (PRWEB) May 20, 2015- The Board of Trustees of the Ringling College of Art and Design today announced the awarding of its highest honor - the Trustee Scholarship - to an exclusive group of extraordinary rising seniors for the 2015-2016 academic year. The hard work, talent, spirit, and dedication of these award recipients exemplify excellence and each Trustee Scholar receives a scholarship for their senior year presented at an official recognition ceremony in the fall of 2015.
"Every nominee this year was a fantastic representative of Ringling College. The Board of Trustees had a very difficult challenge in selecting the winners," said Dr. Larry R. Thompson, president of Ringling College of Art and Design. "We all look forward to sharing in their personal and professional growth during the upcoming academic year, and given the track records of previous trustee scholars, their success in their chosen fields after graduation. On behalf of the entire college and the Ringling College Board of Trustees, we are privileged to officially announce the Trustee Scholars for 2015-2016."
Two Trustee Scholar nominees who are in the junior class are selected each spring by the faculty of each academic major and two are selected by the Office of Student Life. So Trustee Scholars represent the 11 majors and the co-curricular Student Life program. The Board of Trustees' Trustee Scholar Selection Committee, led this year by Ringling College Trustee Larry Garberding, reviews each student's submission materials and portfolio, makes their selection, and recommends the appointment of scholars in each major and student life to the entire Board of Trustees based on the following criteria:
Exceptional talent and distinction of mind

Contribution to the department, College, and/or community

Leadership, citizenship and mentorship
According to Fine Arts Trustee Scholar Irene Garibay Sánchez, "I find myself receiving this scholarship with great enjoyment. With every enjoyment comes great responsibility and with time I've come to understand that the more one cherishes and embraces opportunities the more fruitful the situations become. I will truly embrace this opportunity and make it beneficial for my community."
Game Art Trustee Scholar Justine Hamer reflected upon the effort leading to achieving the award, "Trustee Scholar is the greatest honor I've had during the last four years. To have finally achieved this prestigioius award is a fantastic opportunity but also a confirmation of my hard work and dedication."
Interior Design Trustee Scholar Lauren Gayle acknowledged the responsibility of being selected a Trustee Scholar: "To be chosen as the Trustee Scholar for the interior design department at Ringling College of Art + Design is such an amazing honor. Being one of the Trustee Scholars is also a responsibility to represent my school. The amount of information I have learned in the past three years is mind-boggling to me. Now as I look back. I will forever be grateful to the teachers and the Board of Trustees for honoring me with this prestigious award."
"Honest, hard work, and nothing else, will lead you to exponential success," said Game Art Trustee Scholar Kevin Whitmeyer.
Graphic Design Trustee Scholar Ben Bryant said, "I am honored to receive the Trustee Scholar Award; the amount I have learned at Ringling College of Art and Design has far surpassed what I expected."
And finally, Business of Art and Design Trustee Scholar Nikelle Mackey concludes that "To be named a Trustee Scholar must mean I'm doing something right."
About Ringling College of Art and Design
Ringling College of Art and Design is a private, not-for-profit, fully accredited college offering the Bachelors of Fine Arts degree in 11 disciplines: Advertising Design, Computer Animation, Film, Fine Arts, Game Art, Graphic Design, Illustration, Interior Design, Motion Design, Photography & Imaging, and a Bachelor of Arts degree in the Business of Art & Design. Located in Sarasota on Florida's Gulf Coast, the picturesque 48-acre campus now includes more than 110 buildings, and enrolls nearly 1,300 students from 44 states and 54 countries. It is recognized as being among the best and most innovative visual arts colleges in the United States as well as a leader in the use of technology in the arts. http://www.ringling.edu