Perry's "The Haves and the Have Nots" And "Love Thy Neighbor" Return This June
"The Haves and the Have Nots" Premieres on Tuesday, June 30 at 9 p.m. ET/PT "Love Thy Neighbor" Premieres on Friday, June 26 at 9 p.m. ET/PT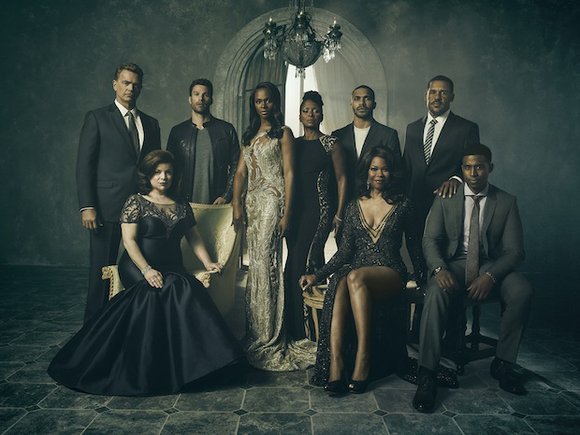 Los Angeles – OWN: Oprah Winfrey Network's hit drama "The Haves and the Have Nots," starring John Schneider and Tika Sumpter, returns for its new summer season on Tuesday, June 30 at 9 p.m. ET/PT. The popular comedy series "Love Thy Neighbor" from Tyler Perry, featuring ornery but loveable Mama Hattie (Patrice Lovely) and her Love Train Diner, returns Friday, June 26 at 9 p.m. ET/PT with two back-to-back episodes.

OWN's highest-rated series, "The Haves and the Have Nots" last season was primetime's #1 original cable series among African-American women and total viewers, regularly attracting more than three million viewers. Previously, "Love Thy Neighbor" averaged one million viewers and was the #1 original cable series in its time period for African American viewers.
About "The Haves and the Have Nots"
The one-hour soapy drama, "The Haves and the Have Nots," follows the tangled lives of the wealthy Cryer and Harrington families and the poor Young family. As the season begins, all three of the families are in crisis. A fire tears through the Harrington mansion, sparked by socialite Veronica Harrington (Angela Robinson) in a fit of jealous rage aimed at her husband David Harrington (Peter Parros). Once again, Candace Young (Tika Sumpter) who extorted millions from judge Jim Cryer (John Schneider), finds herself in the crosshairs of trouble --- accused by Jim and his wife Katheryn (Renee Lawless) for the death of their daughter and stopping at nothing to find her missing child. Meanwhile, the sons --- Wyatt Cryer (Aaron O'Connell), Jeffrey Harrington (Gavin Houston) and Benny Young (Tyler Lepley) --- must grapple with their own issues and the aftermath of their actions. And Young family matriarch, Hanna (Crystal Fox), struggles to hold her family together.

In celebration of the new summer season, fans of "The Haves and the Have Nots" will have a new way to engage on mobile devices through a free, downloadable keyboard featuring show emojis, stickers, gifs and video. The keyboard app will be available on both iOS and Android through the Apple App Store and Google Play. For additional details, please visit http://www.oprah.com/hhnemoji
About "Love Thy Neighbor"
"Love Thy Neighbor" is OWN's popular half-hour comedy set at Mama Hattie's (Patrice Lovely) Love Train Diner, a family run restaurant where every day the menu serves up good food, great laughs, valuable life lessons and a whole lot of love. In the new season, Linda (Kendra C. Johnson) teams up with Ella Payne (Cassandra "Cassi" Davis) to kick her wedding plans into high gear, but struggles with the thought of telling Philip's children about their new engagement. Linda's pathway to wedded-bliss hits some bumps when she pushes Philip (Tony Grant) to remove all of his ex wife's furniture from their future home, and he resists, threatening to call the whole thing off. Also, after receiving encouraging advice from Mama Hattie, Drew (Darmirra Brunson) decides to reveal her long-held crush.
Both "The Haves and the Have Nots" and "Love Thy Neighbor" are created, written, directed and executive produced by Tyler Perry and is produced for OWN by Tyler Perry Studios.
About OWN: Oprah Winfrey Network
OWN: Oprah Winfrey Network is the first and only network named for, and inspired by, a single iconic leader. Oprah Winfrey's heart and creative instincts inform the brand ­ and the magnetism of the channel. Winfrey provides leadership in programming and attracts superstar talent to join her in primetime, building a global community of like-minded viewers and leading that community to connect on social media and beyond. OWN is a singular destination on cable. Depth with edge. Heart. Star power. Connection. And endless possibilities. OWN is a joint venture between Harpo, Inc. and Discovery Communications. The network debuted on January 1, 2011 and is available in 85 million homes. The venture also includes the award-winning digital platform Oprah.com. For more information, please visit www.oprah.com/own.