HSPCA: Saving Storm Victims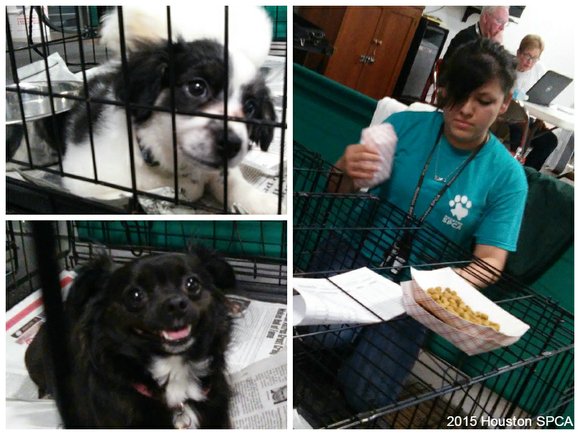 You believe in our mission. That is why I want to let you know that your support is helping us provide shelter, food, comfort and loving care right now to the animal victims of this week's storms.
Our emergency disaster and sheltering teams were deployed early Sunday afternoon at the request of the Houston Chapter of The American Red Cross. Within hours, we had established a mobile animal shelter, co-located at the Chinese Community Center, capable of housing and caring for up to 40 dogs and cats. Margaret and Manchos, were the first of the four-legged victims who arrived in need. They and their human family were homeless after a tornado packing winds of 100 mph ripped through an apartment complex early Sunday morning.
It didn't stop there. Nearly a foot of rain pounded the Bayou City Monday night, which officials characterize as a 500-year flood. Wet, hungry and in need of shelter, flood victims began arriving at the emergency shelter early Tuesday morning. Our dedicated teams will be working 24 hours a day to meet the needs of these innocent victims whose lives have been uprooted by the devastation.
Disaster response has a significant impact on our resources and personnel, but it's our mission. It's who we are and what we do best! But we can't do it without you. Please consider making a donation right now to support our many lifesaving programs and services, including disaster rescue and relief. And please accept my thanks for believing in our mission and the work that we do on behalf of animals in need.
Sincerely,
Patricia E. Mercer
Houston SPCA President
For more information, visit hspca.convio.net