J.K. Dove's New Children's Book Tells Story of Jesus Through Tree's Eyes
'The Most Blessed Tree' follows life of Jesus, tree eventually used as crucifix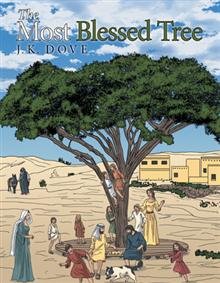 CLEVELAND, Texas – Author and teacher J.K. Dove often assists in children's ministry at church. While she is no stranger to the story of Jesus and his sacrifice, she says it is only recently that she recognized the true source of Jesus' pain on the cross as the sin weighing on his heart and not merely the crucifixion itself.
Dove invites old and young readers alike to walk with Jesus and the tree that he would later be crucified on in her new children's book, "The Most Blessed Tree" (published by WestBow Press).
The large tree with a thick trunk and many branches was the pride and joy of the town. Children from all over would come to climb it and play on it. One of these children was none other than Jesus. Of all the children who played on the tree, the tree enjoyed Jesus' company most. Little did either of them know that the tree would one day be the cross upon which Jesus was crucified.
"The Most Blessed Tree" follows the life of Jesus through the eyes of the tree, giving readers a lesser-seen view of Jesus as a child. Readers watch as Jesus grows into the man known in the Bible who must face his inevitable crucifixion. Dove says the crucifixion is not what ultimately killed him, but that it was the weight of the world's sin on his heart – the reason his bones weren't broken by hand, which was a common practice to end the life of one crucified – something she hopes readers will take away from her book.
An excerpt from "The Most Blessed Tree":
"When the boy trusted himself to God,
when his bleeding heart stopped beating
under the weight of each person's sin,
the tree remembered travelers who had said three days."
About the Author
J.K. Dove is a teacher and author who is actively involved in children's ministry at church. She and her family live in Cleveland, Texas. "The Most Blessed Tree" is her debut book.
WestBow Press is a strategic supported self-publishing alliance between HarperCollins Christian Publishing and Author Solutions, LLC — the world leader in supported self-publishing. Titles published through WestBow Press are evaluated for sales potential and considered for publication through Thomas Nelson and Zondervan. For more information, visit www.westbowpress.com or call (866)-928-1240. For WestBow Press news, click "Like" at www.facebook.com/WestBowPress and follow @westbowpress on Twitter.