Spelling Bee Winners Honored at State Capitol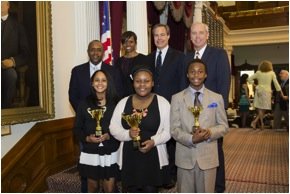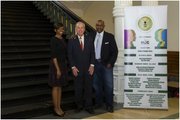 Houston, Texas—The 2015 winners of the African American National Spelling Bee Championships, Inc. ("AANSBC") were honored at the State Capitol on Tuesday, May 12. Representative Gary Elkins invited the winners to Austin to be honored before state legislators. The spelling bee competition was held on February 28 at Houston Community College, The Heinen Theater. The winning word was "cornucopia." Celebrity guest educator Bun B, rapper J. Xavier, and others enlightened and entertained the audience demonstrating the importance of spelling during a celebrity bee competition. José Griñan served as Master of Ceremonies of the Bee.
Next year's competition is scheduled for Saturday, February 27, 2016. Houston Community College will again serve as site sponsor. Spelling bee organizers, Robert Garner and Jacqueline Terrell, are very proud of the students' accomplishments this year and are looking forward to next year's competition.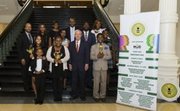 For more information on spelling bee workshops this summer for teachers and students, please send inquiries to info@bee-aboutit.org.
For more information, visit www.bee-aboutit.org.