El Faro Owners File Lawsuit to Block Legal Action by Families of Ship's Crew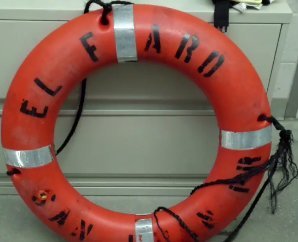 By Kevin Conlon
CNN
(CNN) -- Just hours before the Navy homed in on what's believed to be the wreckage of missing American cargo ship El Faro, lawyers for the owner of the ship went to court in an action that one maritime attorney calls "highly insensitive to the families" of the sunken ship's crew.
In a complaint filed Friday in U.S. District Court in Florida, El Faro owner TOTE Maritime claims "exoneration from or limitation of liability" in any claims the families of crew members might file. The company says it "exercised due diligence" to make sure the 40-year-old vessel was seaworthy and well-equipped for its September 29 trip from Jacksonville, Florida, to San Juan, Puerto Rico, and should thus be "(exonerated) from liability for any and all losses or damages sustained during the voyage ... and from any and all claims for damages that have been or may hereafter be made."
The El Faro disappeared October 1 some 30 miles off the Bahamas, as Hurricane Joaquin raged in the region. The massive ship vanished with 33 crew members on board -- in the month since, the remains of one unidentified body and several pieces of debris are all that's been recovered.
The Navy said Saturday it has zeroed in on the wreckage of a cargo ship in some 15,000 feet of water, and it's believed the El Faro.
Families of four crew members have already filed lawsuits against TOTE on the grounds that the El Faro had a shoddy maintenance history and was reckless for knowingly sailing toward a hurricane.
But TOTE's court action Friday would prevent any other families from doing the same until a judge rules on the complaint, according to Kurt Arnold, an attorney representing the family of one of those four crew members.
"It's aggressive because it happened so fast," Arnold, who is based in Houston, said of the ship owner's legal action. "(TOTE) is coming out early, while the families (are) still grieving ... they only called the search off for (crew members) three weeks ago."
Daniel Rose, a maritime attorney not presently involved in any litigation pertaining to El Faro, agreed, telling CNN the maneuver came "too soon" and called it "highly insensitive to the families."
"The wreckage hadn't even been identified, let alone retrieved," said Rose. "TOTE had six months to file a limitation action. They should have waited to see if the wreckage would be found, which appears likely, and loved ones retrieved, rather than slapping the families with a lawsuit."
At the same time, said Rose, TOTE's action was to be expected. "Unfortunately, (it is) not a surprise for this industry."
TOTE sent a statement to CNN that said "the company will not discuss individual legal actions, out of respect for the legal process. Our focus remains on support and care for the families and their loved ones."
Blame the captain?
Both Arnold and Scott Wagner, a lawyer representing the family of El Faro crew member Jackie Jones Jr., told CNN it appears TOTE is not only seeking to avoid blame, but angling to place any that may come its way squarely on the captain of the ship, Michael Davidson.