Free Multi-Genre Music/Arts/Activism Festival Returns to Houston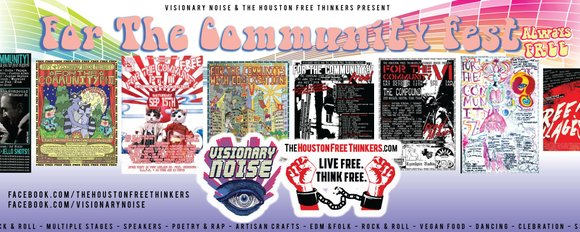 Join the Houston Free Thinkers activist community and Visionary Noise! promotions/booking as we celebrate the 4 year anniversary and 10th edition of For The Community, Houston's only FREE Multi-Genre, Multi-stage, Two-Day, Music, Art and Activism Festival! The festival will turn the Warehouse District into a block party!
WHAT: For The Community 10 will feature:
70 musical acts and performers from around Houston and out of state, including award winning performers
Flcon Fcker, P.L.X.T.X., Positive Disturbance, Giant Kitty, Versa Nova, Disfrutalo, Colombo, and much more!
Poetry readings and live art painting

speakers discussing important local and national issues

the Agora marketplace featuring over 20 vendors selling local crafts and foods
WHERE: The Last Concert Cafe (1403 Nance St), Eastdown Warehouse (850 McKee St)
WHEN: Saturday November 21st at 2 pm, Sunday November 22nd at 2 pm