St. Kitts Is The Inspiration For New Tommy Bahama Fragrance
Men's and Women's Fragrances Now Available for Purchase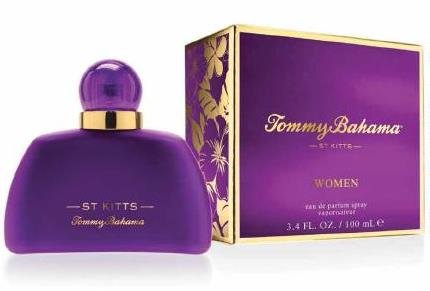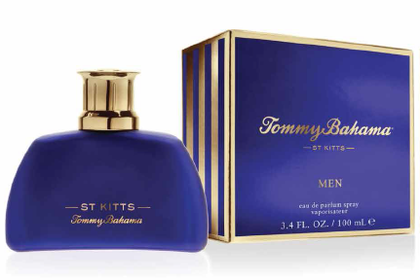 Basseterre, St. Kitts (November 3, 2015) - Tommy Bahama, the iconic island lifestyle brand, has recently announced the launch of an exclusive new fragrance collection, Tommy Bahama St. Kitts. Inspired by the serene beaches of St. Kitts, this new scent collection introduces two new fragrances, one each for men and women, which capture the exotic essence of this island oasis.
"It is extremely gratifying to see that St. Kitts has inspired this new fragrance collection by Tommy Bahama," said the Hon. Lindsay F.P. Grant, Minister of Tourism, International Trade, Industry and Commerce. "For this well-known international brand that markets the upscale island lifestyle to choose our island speaks volumes about the excellent quality and nature of the experience we offer, which appeals to an affluent, experiential traveler and aligns with the profile of consumers who shop for Tommy Bahama products."
The custom bottle design emulates Tommy Bahama's signature style and rich heritage with its smooth shape and calming color palette. The sleek caps provide an opulent aesthetic that encompass the essence of Tommy Bahama's classic, cool and confident profile.
Designed by perfumers Richard Herpin and Harry Frémont, the Tommy Bahama St. Kitts collection's fragrance notes are inspired by the beautiful sunset and salty sea breeze of the island's scenic beaches.
St. Kitts for Men - Refreshing and relaxing at its core, a zesty blend of Kaffir Lime, juicy Mandarin and tropical Star Fruit paired with Cedarwood, fresh Sea Salt and a Watery Accord, create an invigorating woody scent reminiscent of the sea breeze. The fragrance is rounded out with Driftwood, Ambergris and creamy Musk adding a salt swept warming effect like suntanned skin after a day in the sun.
"I was inspired by the thought of spending a lazy afternoon on the beautiful island of St. Kitts, breathing in the salty air as it mingles through palm trees," said Harry Fremont, Perfumer of St. Kitts for Men.
St. Kitts for Women - This captivating and stunning fragrance opens with a tropical cocktail of juicy Pear, mouth-watering Mango and fresh Starfruit combined with a sweet bouquet of Frangipani, Plumeria and Freesia adding breezy floralcy. A dry, yet creamy Musk, salty Driftwood and a touch of Vanilla Bean envelop the fragrance providing a solar warmth reminiscent of the beach before sundown.
"I was inspired by a beautiful sunset on St. Kitts beaches, with the smell of a fruity cocktail and plumeria blossoms floating in the air," said Richard Herpin, Perfumer of St. Kitts for Women.
The Tommy Bahama St. Kitts collection is designed for the confident and active individual seeking to be transported to a remote island escape. Capturing the essence of sea breeze blowing through palm trees, every day will feel like a calming day at the beach with Tommy Bahama St. Kitts fragrance collection.
Tommy Bahama St. Kitts is now available exclusively at Tommy Bahama stores and TommyBahama.com.
ABOUT TOMMY BAHAMA
Tommy Bahama is part of Tommy Bahama Group, Inc., a wholly owned subsidiary of Oxford Industries, Inc. (NYSE:OXM). Established in August 1992, with corporate headquarters in Seattle, Tommy Bahama is an island-inspired lifestyle brand that defines relaxed, sophisticated style in men's and women's sportswear, swimwear, accessories, footwear and a complete home furnishings collection. The company owns and operates over 160 Tommy Bahama retail locations worldwide, 16 of which offer a Tommy Bahama Restaurant & Bar. The Tommy Bahama collection is available on TommyBahama.com and at the finest U.S. retailers, including Nordstrom and other specialty retailers. Additional stores will be opening this year. For more information, please visit www.tommybahama.com.
ABOUT PARLUX LTD., INC
Parlux Fragrances LTD, a leading global beauty company designs, manufactures, markets and distributes prestige fragrances and related products since 1987. It holds the licenses for notable fragrance brands including Vince Camuto, Jessica Simpson, Rihanna, JAY Z, Kenneth Cole, and Tommy Bahama among others.
Parlux Fragrances, LTD is a wholly owned subsidiary of Perfumania Holdings Inc., an independent, national, vertically integrated wholesale distributor and specialty retailer of fragrances and related products. It is traded on the NASDAQ exchange (PERF).
ABOUT ST. KITTS
St. Kitts is currently ranked, with sister island Nevis, at #6 on a list of the Best Islands in the World, #6 on a list of the Best Caribbean Vacations, and #4 on a list of the Best Beach Honeymoon Destinations in the World, #3 on a list of Best Caribbean Honeymoons, and #10 on a list of the Best Affordable Caribbean Destinations by US News & World Report. It is also ranked at #7 among the Hottest Places to Travel this Winter by CNN Money based on bookings received by Virtuoso, #8 on a list of the Top 10 Best Islands for a Holiday by Places To See In Your Lifetime, #14 on a list of the 50 Travel Destinations That Will Be Huge In The Next 10 Years as well as #8 on a list of the 25 Best Caribbean Islands by Business Insider, one of the Top 12 Best Caribbean Vacations on FlipKey.com, the vacation rental company of leading travel website, TripAdvisor®. In 2014, LINKS Magazine included St. Kitts & Nevis in its newly created ranking of the Top 25 Islandsin the world. St. Kitts & Nevis has also been named one of the Top 15 Emerging Travel Hotspots for 2015by The Huffington Post and has been ranked by The New York Times at #34 of the 52 Places to Go in 2015. In addition, St. Kitts received the "Innovative Destination of the Year" Award in Caribbean Journal's Caribbean Travel Awards 2014.
For more information, please visit www.tommybahama.com or www.stkittstourism.kn