A Fraud? Minister Who Prayed the Gay Out of Andrew Caldwell Exposed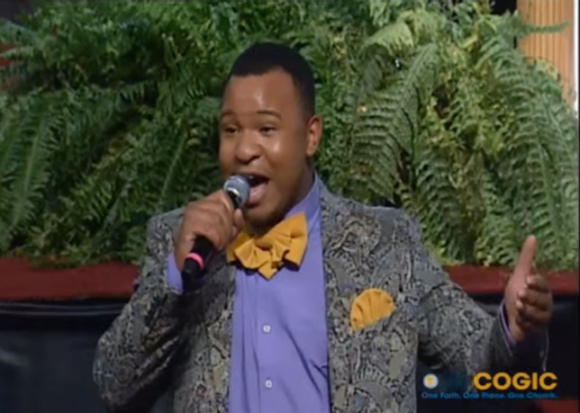 Many of you will recall last year about this time, Andrew Caldwell became an internet sensation because he testified that he had been "delivert" from homosexuality and said, "I ain't gay no more. I like women-women-women!"
While many a Christian may have been moved by Caldwell's sexual rebirth, others took to social media to mock and parody him. Caldwell himself even took his hilarious moment to the next level with background singers and released it on iTunes.
As his 15 minutes of fame began to run out, Andrew confessed that he does still indeed desire men, and most recently, he made headlines when he gave a radio interview claiming to have slept with Ex-NFL star Kordell Stewart, who denies the allegations.
While we, and many others, pass no judgement on Caldwell's deliverance and sexual preference, a small group of Church of God in Christ (COGIC) men, who happen to be gay, are still very angry about the sermon that Dr. Earl Carter preached that made Andrew tell his story. The group has come forward with eye-rising information about Dr. Carter, including his arrest record and photos which show that the address he claims to be for his church, is actually to a liquor store in Florida.
The group describes themselves as "educated, professional and devout Christians," who seek to expose Carter for his sins because, "He is a hypocrite and an embarrassment to our church denomination," a member from the group, who asked to remain anonymous, tells EUR.
"It's been a year since he stoned all homosexuals but now we are going to stone him for his sins, and they are many. If he thought he was going to get away with those shenanigans, he was wrong. Listening to Dr. Earl Carter's hateful words about homosexuals, would make you think that being gay is the worst thing in the world. We beg to differ. We think being a felon, being a liar and being a perpetrator is worse – and that's what Dr. Earl Carter is!"
As the group notes, Carter claims he is the senior pastor of Christ Ministries Church of God in Christ, Orlando, FL., and after he made headlines, naturally, many were interested in learning more about this seemingly powerful force who inspired young Andrew to denounce men. However, the source tells EUR:
"We noticed that we never read a comment from a present or former member supporting him which made us wonder more about his church. We learned that where he says his church is located is actually a liquor store. We spoke to the liquor store and they have been in business for over 6 years and there is no church there or in the neighboring strip mall. How can you call yourself a senior pastor when you don't have a church to pastor?"
On Mr. Carter's bio page of his website, it notes that he "received" his doctorate in Sacred Letters from Jacksonville Theological Seminary, to which the COGIC member says:
"When the university was contacted, they stated that the Doctorate in Sacred Letters in an honorary degree that could be requested."
An arrest record provided by the group seems to show that Earl Carter has been has been hit with two felonies and one misdemeanor for domestic violence.
"He's been arrested 3 times in the last 20 years, the last time in 2008. His bio says he was arrested as a youth, but forgets to "CONFESS" that's he's been arrested for serious charges during the time he was preaching fire and brimstone."
Some may wonder why the group is speaking out now, and some may even argue that in exposing Carter, two wrongs don't make it right, yet their allegations do make you pause and wonder about how "those who protest the loudest are the most likely to be guilty of what they protest against."
"Dr. Earl Carter, stood in God's pulpit at the 107th Holy Convocation and thought it was okay to talk about a man bleeding from his butt. He stood on his high horse preaching that deliverance was needed for homosexuals. He yelled about "our" sinful ways and lumped all gay men into one category of purse carrying, make-up wearing, high heel flaunting "sissies." We don't fit any of these descriptions."
This information is just the tip of the iceberg, the group claims.
"With so many skeletons in his closet, he should have stayed in it, like so many other gay church men are forced to be."
For more information go to http://www.blackamericaweb.com