Houston Get Ready for Cirque du Soleil's TORUK!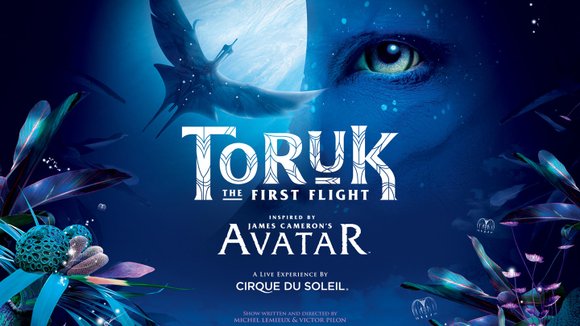 Houston, I hope you are ready for the newest and grandest mythical production yet from Cirque Du Soleil. I got to dive in and experience Cirque Du Soleil's Toruk-The First Flight. And I can tell you from seeing this production first hand that you don't want to miss it.
Inspired by James Cameron's Avatar, Toruk, like Avatar, is a mythical tale set thousands of years before the events happened in Avatar. Led by an actual storyteller, the story of Toruk follows three young adults - Ralu, Entu, and Tsyal as they set on a journey to find Toruk to ride it for the first time and save the Na'vi clans from destruction that dwell on Pandora. Toruk, in the Na'vi language, refers to the great leonopteryx, the mighty red and orange predator that rules the sky in Pandora.

Creative Directors Michel Lemieux and Victor Pilon started working on an idea for a production such as Toruk seven years ago. What they ended ultimately creating was something much more than they imagined.
Toruk is the combined creation of the world of Avatar with the signature style of Cirque and the artistic vision of both Lemaieux and Pilon. The results of all these things is not only a spectacular show, but a multimedia spectacle of cutting edge visuals, puppetry, a dramatic cinematic score, and an engaging interactive fan experience that prompts you to become part of the live show. Unlike the other shows, this show from Cirque du Soleil will also feature a voiced actor. It's the first of it its kind for Cirque Du Soleil and I was excited to be given a back stage pass to get a first glimpse into the making of this fascinating production for Cirque Du Soleil's Toruk's Media Day.

My itinerary started with an introductory overview of the show with the production's two main Creative Directors. It was cool to get this insight of the show and learned about their unique vision and direction in creating it. Gaining a better understanding of the creative process really allowed me to appreciate all aspects of the show in an entirely different way. Here are just a few fascinating things that I learned. Toruk's stage is a giant virtual space with huge screens. The performance stage is 85 by 162 feet and is covered by a natural color fabric that aids in creating the various backdrops. Pandora, where the production is set, has rich detailed terrain and lush landscapes that appear as a landscaped image projected onto the fabric surface. The realistic visuals make you feel as though you've landed on another planet. It is so surreal and you immediately feel immersed into the show.
Expect to see magical floating mountains along with lucent starry skies. The video projections are extended to the ceilings and into the audience to make you feel as though you are on Pandora too. Many of the projections overflow inside the arena so expect a multimedia virtual world experience unlike anything you have seen before.