Houston Get Ready for Cirque du Soleil's TORUK!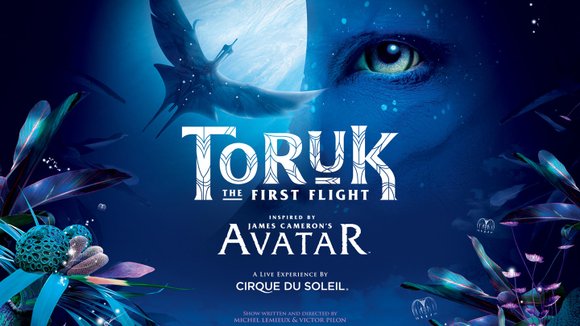 During the first look experience of this show I was also able to meet with talented costume and makeup designer Kym Barrett and Puppeteer Designer Patrick Martel. The show's costume director gave us an inside look into what its like to be transformed into one of the many characters of the show like the Na'vi clans that occupy Pandora. There are only 35 performers in Toruk and 115 costumes in the show. Twenty-five different variations were use to create the base of the Na'vi costumes. Synthetic fiber was used to create the skin like fabric and bioluminescent fabrics and paint was used to allow the costumes to glow in the dark. Pretty cool.
Another great fact about Cirque De Soleil Toruk was its use of puppetry. Life size puppets are used to personify the beast like exotic fauna in the show.
Puppeteer Patrick Martel took us into his world and shared the design process that each puppet went through. It took weeks of work to conceptually come up with the current design. He explained that you have to visualize not only the look of the puppet but also the design of all it parts and the puppets will ultimately move.
I've seen a similar types of puppets in the musical the Lion King, but with Toruk Puppeteer Martel takes it a step further with lights that illuminate the puppets' bodies and giant eyes giving them a larger than life affect while in the dark. The main challenge here for the actors was learning how to move effortlessly with the puppet because each puppet weighs 23 pounds. Martel explained that you have to really be in great shape to be able to carry and handle one.
At the end of the tour I had the opportunity to chat it up with a few of the show's main performers. Not only did I learn that the performers are rehearsing 12 hours a day seven days a week, but many are trained acrobats, aerialists and dancers and come from all over the world. The performers I talked to expressed immersed excitement of being apart of something so creative and profound. Many of them at Cirque Du Soleil are grateful for the opportunity to not just entertain audiences, but also to invoke, evoke, and provoke the audience with such a fascinating story.
What I found to be the best things about this experience was being able to meet the creative team behind Toruk and see all the artistic components come together. It is going to be an experience fans of the movie will indeed love.
Toruk ~ The First Flight, will embark on it's USA tour beginning November 12th, in Shreveport, Louisiana and opens in Houston on Feb 11-14 2016. Purchase tickets online at www.houstontoyotacenter.com/events/detail/toruk-the-first-flight. For more information about the show, tour dates and how to download the free app to start the interactive fan experience visit