Pollo Campero Spreads its Wings and Latin Flavors in Houston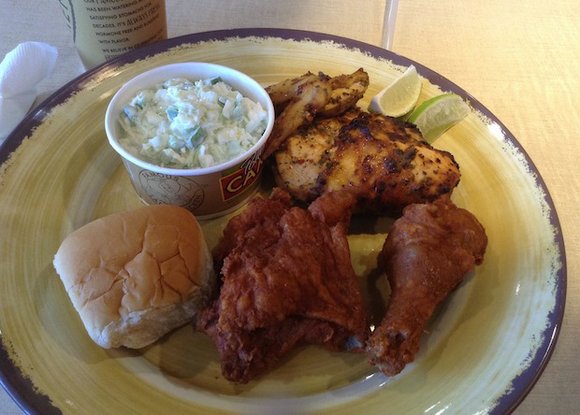 In October, Houston's Greenspoint and Westwood areas were introduced to the Latin American Food chain Pollo Campero. The restaurant which gained notoriety in the United States when it became a common occurrence to witness many travelers returning from Guatemala with boxes of chicken on their departing flights to enjoy on the trip home.
Since that time, the restaurant chain has expanded its operations throughout the U.S. and Europe. They are known for their seasoned to the bone, hormone free, grilled and fried chicken. Additionally, they offer unique side dishes to compliment the succulent and tasty protein such as the yucca fries, deep-fried plantains, black beans, empanadas, and fresh savory coleslaw.

Furthermore, they offer to their patrons a well-stocked salsa bar which contains a variety of hot, mild and spicy sauces to accent one's meal. Some of the sauces include pico de gallo, chipotle salsa, and an onion cilantro mix. Moreover, Pollo Campero is leading the way in the fast food arena by offering traditional Latin drinks such: as horchata, Jamaica, tamarindo, and guava. The horchata is blended rice milk, which is sweetened with cinnamon and vanilla. The Jamaica is a hibiscus drink that is lightly sweetened; this one is my favorite because it is refreshing and does not taste very sweet at all. The tamarindo is a citrus flavored drink, and the guava is a tropical fruit drink that tastes like a smoothie.

The international corporation can attribute much of the entity's success to Marketing Executive Federico Valiente, who is responsible for sales management, customer service and marketing research for both North /South America and Europe. His passion for the brand was expressed in our interview; he has been with the company for about eight years; travels extensively, barely sleeps, but he enjoys his work and is one of the reasons that the company is experiencing growth and has been able to expand, in my opinion.

Federico verified that Pollo Campero is fully committed to serving the fresh savory recipes that the company is known to emphasize. All of their foods, including the side dishes are prepared daily. The chicken is marinated 12 hours before cooking.
I sampled a nice portion of the grilled and fried chicken, the yucca fries and the fresh cabbage slaw. The meat was tender, full of flavor and maintained its natural juice. The fries were served with a sauce that in my view was not necessary because the yucca root had a nice potato flavor, but they were not heavy on the stomach. Everything went down well with the Jamaica drink, and of course I was very full and took home a portion of my meal with some flan for dessert.

To find the nearest location to you, visit their website at www.pollocampero.com. Thanks for reading, and please follow me on Twitter @YPEatingWstyle. Share this article and any other stories on www.stylemagazine.com.