Houston Photographer Zooms in on Historic Bricks: Ferrell E. Phelps Freedmen's Town Project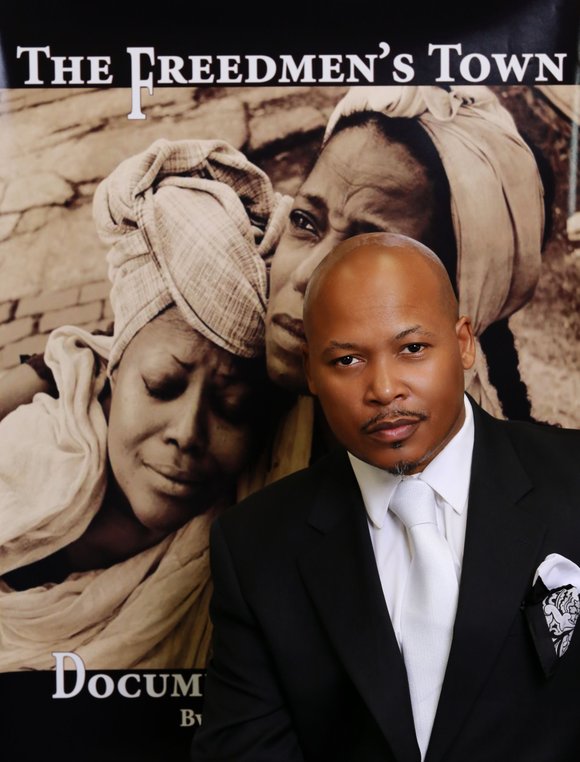 I got a chance to sit down with celebrity photographer Ferrell Phelps to discuss the Freedmen's Town Documentary Project & how he wants to use his artistry to capture what those bricks mean to Houston. Phelps went from being a mall photographer with a great vision into owning his own studio, taking some of the very first pictures of Destiny's Child, venturing on an exclusive photo shoot with Dionne Warwick and working with many other phenomenal icons.
Interview with Ferrell Phelps:
Ke'Ke
What does The Freedmen's town project mean to you?
Phelps
"The Freedmen's town documentary project (photo gallery) really means a lot to me.. number one, because of its importance in history and the fact that so much of the community no longer exist. So many Houston natives have no idea that this area of Houston is where the very first African Americans came into the city who just so happen to be former slaves after the emancipation proclamation. I actually have relatives such as my great grandparents and grandmother and mom who were raised in that area for a period during their youth."
Ke'Ke
How are you invested into the movement of the Freedman's town project? Are you apart of the Freedman's town Preservation Coalition?
Phelps
"Many years back, I was called out to photograph the bricks of Freedmen's town due to an on going issue between the city and the community of possibly removing them which is still and issue today, well over a decade plus. I later learned of this historical community that's been right under the radar to so many Houstonians who had no idea that it was previously inhabited by former slaves realizing that so much of the history was no longer in existence. I was moved to create the project to keep history alive even after the physical elements are gone."
Ke'Ke
 I got a chance to see the beautiful pictures portraying what it would've been like in that particular era-- Who are some of the actors, individuals who have greatly contributed to the forthcoming documentary?
Phelps
"I have invested in this project for over a year to create this project using a multitude of actors, models, props, wardrobe, antique cars, several assistants, numerous phone calls, countless meetings hours and long days of shooting coordinating scenes. I conducted some extensive research before some of the people involved were included but not limited to Deneen Tyler from Oscar winning film - 12 years a slave, former Houston Astro Eric Anthony, legendary songstress Jewel brown who was the last female to perform with Louie Armstrong , members of the Joe sample Band New Age Krusaders, Dr. Thomas Freedman (debate coach for the Denzel Washington film , The Great Debaters) and a host of actors and models.
One of my forthcoming goals is to have a traveling exhibit that tours local schools to educate the students on the rich culture, history and legacy of our people. I'd like the world to see this amazing one- of-a-kind exhibit where history is recreated through the imagery lens of camera and brought into modern day including elements of the twentieth century-- even before camera equipment came about."