SMU Hosts Four of First African Americans to Integrate Southern Colleges Nov. 12
Unique database of integration pioneers to be unveiled at public event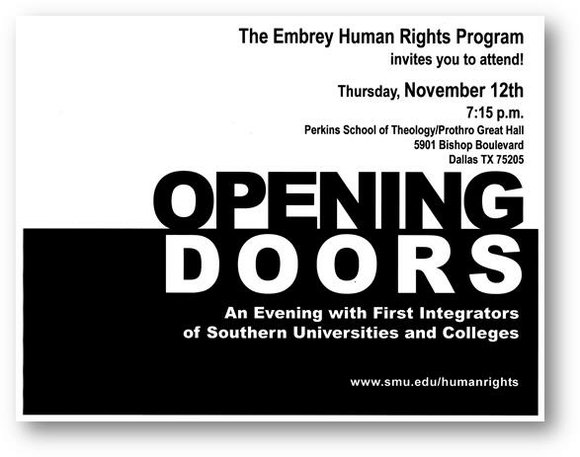 DALLAS (SMU) – James Meredith, Vivian Malone and James Hood may be the best-known African Americans to integrate Southern colleges, but SMU's Embrey Human Rights Program will introduce four important, but lesser-known, trailblazers at a free public event at 7:15 p.m. Thursday, Nov. 12, in Elizabeth Perkins Prothro Hall on the SMU campus.
"Opening Doors: An Evening With the First Integrators of Southern Universities & Colleges" also will host the unveiling of a new database of higher education integration pioneers developed through research by Embrey Human Rights students.
"We're doing this not only to honor each integrator, but also to show how history has embraced, or not embraced, what they did, and how their actions hopefully changed those universities for the better," says Embrey Human Rights Assistant Director Brad Klein.
It has taken five years of research for students to populate the database. "It hasn't been easy to put together because of issues ranging from privacy regulations to institutions reluctant to shed light on their dark pasts," says Embrey Human Rights Director Rick Halperin. "But this is an ongoing project we want to see accomplished. It should be available as a piece of history, and we hope its accessibility will encourage the public to contribute to it."
Discussing their respective integration-related experiences will be:
Ulysses "Skip" Bennett (Birmingham-Southern College, Alabama, 1965): Two years after James Hood and Vivian Malone made national headlines in 1963 as the first two students to integrate the University of Alabama in nearby Tuscaloosa, Bennett made his own mark by enrolling at Birmingham-Southern. The Birmingham native hoped to attend his hometown college after financial hardship forced him to drop out of Morehead College in Atlanta. Bennett credits his success to "an extraordinary confidence" stemming from being elected to leadership roles at Morehouse and in high school, when his nonviolent participation in a freedom march landed him in jail for a week. After admittance to Birmingham-Southern, in large part thanks to the 1964 Civil Rights Act, "I wasn't sure what to expect, but I felt like I could deal with whatever was presented to me," he recalls. Bennett earned a degree in business administration before getting a MBA from Stanford University. He would go on to own and operate his own financial services company in Fort Worth.
Charles Bosley (Midwestern State University, Wichita Falls, Texas; 1954): After graduating first in his high school class, Bosley and three friends enrolled for undergraduate studies at Midwestern State University. The obstacles preceding them were heady: For four years a number of African American students had submitted applications and been accepted – only to be turned away and have their applications revoked after their visits to campus. After a legal battle lasting several years, the U.S. Supreme Court's second Brown v. Board of Education ruling in 1955 (which ordered public schools and, by implication, colleges and universities to integrate "with all deliberate speed") ultimately moved MSU to accept its three most recent African American applicants, including Bosley. That fall, more than 40 other African American students were admitted, making MSU the first publicly supported senior college in Texas to admit black students. Bosley, who pursued a career in medicine, is an orthopedic surgeon who lives in Los Angeles.