Turner Scores Endorsements to Secure December 12 Run-Off
Burt Levine | 11/13/2015, 7:24 a.m.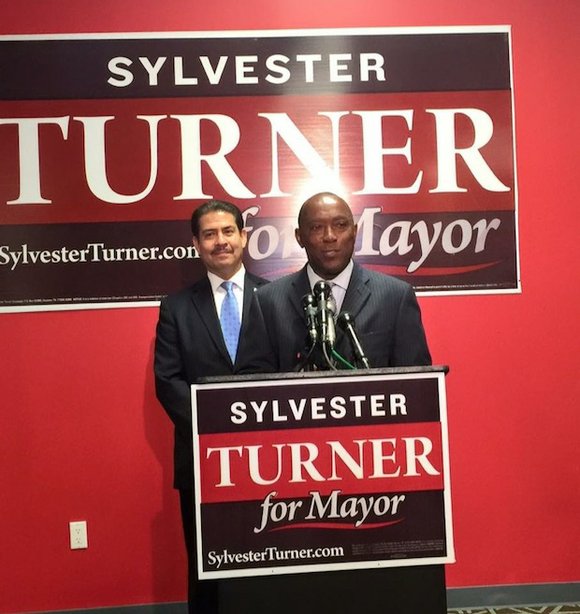 Sylvester Turner, fresh off coming in above any of his opponents in Tuesday, November 3rd's general election, has announced he has won the endorsement of former Harris County Sheriff Adrian Garcia. Turner's votes plus Garcia's votes in the first election equal 49 percent of the total vote.
Garcia, a former Houston Mayor-Pro-Tem, three term council member and retired Houston Police Officer until recent weeks was considered Turner's most likely competitor for Mayor of Houston. However, election results prove that spot belongs to Bill King. Turner and King will go head-to-head in a December 12th run-off election.
Reflecting on his run for Houston Mayor, Adrian Garcia said, "We ran a good race, and now it's time to come together - as all Houston - to move our city forward." Garcia's statement continued, "I am proud to announce I am signing up to volunteer: knock on doors, make phone calls, for Sylvester Turner for Mayor. In my book, that means I am fully endorsing Sylvester Turner, and I am asking my longtime friends, family, and supporters to do so as well."
Garcia it is suggested is angling to become the first Latino Houston Police Chief in a Turner administration but Garcia who resigned from being Sheriff to run for mayor denies anything was asked of him and that nothing was promised from Turner.
Turner bragged that they both came from tough backgrounds growing up in tough Houston neighborhoods without much money but families that feted them with what they needed to succeed.
"We didn't have much when it comes to dollars and cents but we were both rich in family," Turner said before stepping aside for Garcia to speak.
In a city that is close to majority Hispanic, this early endorsement from Garcia, who recently as sheriff candidate was the top vote getter in Harris County history in President Barak Obama's 2008 and 2012 election years, is good for Houston's future. Turner and Garcia teaming together cements the Democratic Party support of Turner who also this past week showcased endorsements from Sen. Sylvia Garcia, Reps. Jessica Farrar, Anna Herandez, Armando Walle and Carol Alvarado, City Council Members Robert Gallegos and Ed Gonzalez, Houston ISD Trustee Juliet Stipeche and Constable Christopher Diaz to strengthen his status as the Democratic standard bearer in an officially non-partisan election where the Republican Party is backing his opponent Bill King.
Stephen Costello, in the just ended race for Houston Mayor and a term limited third term city council member, is expected this week to endorse Turner. In addition, former Houston mayoral candidates Chris Bell and Marty McVeigh are set to throw their support for Turner.
In the City Controller contest former City Controller candidate Dwight Jefferson, once a famous University of Texas Football Player and later one of the first and only elected black district judges in Harris County, is endorsing Chris Brown for Houston City Controller.
Early Voting for the Saturday, December 12th run-off begins December 2nd and runs through December 8th.
Share this story online at www.stylemagazine.com.