66th Annual H-E-B Thanksgiving Day Parade
City of Houston's Tradition includes Colorful Floats, High-Flying Balloons, Celebrities and Entertainment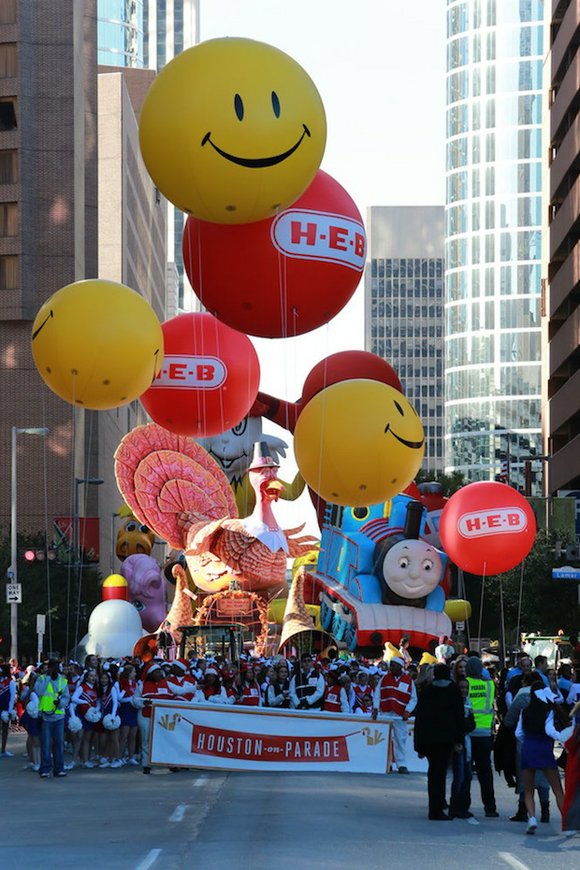 WHEN: THURSDAY, NOVEMBER 26, 9 AM – 11 AM
WHAT: H-E-B Thanksgiving Day Parade celebrates "Houston on Parade" with a stellar showcase of the city's finest attributes - from families, food, sports, the arts and entertainment adding a vibrant lift to this 66-year tradition.
Houston Rockets center Dwight Howard will be the Grand Marshall of Houston's Thanksgiving Day Parade. This annual tradition attracts spectators of all ages and has been a holiday institution since Houston's first Thanksgiving Day Parade began in 1949, when Santa arrived at Union Station and rode his sleigh to the downtown Foley's.
ROUTE: The parade will wind through 20 blocks of downtown Houston beginning at Lamar and Smith heading northeast to Walker toward Milam, hosting the longest stretch of the celebration. The route continues west on Pease to Louisiana through to Clay and onto Smith for the final leg that will end at Dallas and Brazos.
INFO: For more information, please visit www.houstonthanksgivingparade.org.
Mayor's Holiday Celebration and Tree Lighting Presented by Reliant
WHAT: Ring in the season with the Mayor's Holiday Celebration and Tree Lighting Presented by Reliant on Friday, December 4, 2015 in the heart of downtown Houston. The spectacular event is a holiday tradition of music, Santa, fireworks and family fun. A towering Holiday Tree, glowing with energy efficient LED (light-emitting diode) lights, shimmering ornaments and a stunning star topper will light up the streets of downtown Houston this holiday season. Featured artists include Grammy Award Winner Al Jarreau and The Voice season two winner RaeLynn.
WHEN: Friday, December 4, 6-8 P.M. (RAIN OR SHINE)
WHERE: Houston City Hall @ Hermann Square, 901 Bagby Street
COST: The event is free and open to the public.
MORE: For more information, please visit www.houstonspecialevents.org.
Houston First Presents New Year's Eve
WHEN: THURSDAY, DECEMBER 31, 7:15 PM – 12:15 AM
WHAT: Tease up your beehive and throw on your post-punk thrift store duds to ring in 2016 with the B52's, as Houston FirstSM Presents New Year's Eve. The "world's greatest party band" will bring their timeless hits and infectious party music to the city's fun-filled, FREE and family-friendly night of celebration throughout Houston's Theater District.
Bring the kids for an early New Year's celebration in the Family Zone on Jones Plaza filled with dancing, games, activities and costumed characters to end the year with extreme fun. Grown-ups are invited to sip bubbly and toast the end of the year in the Bubbly Garden with plenty of room for dancing and a lounge area to rest your bouffant while enjoying great views of the mainstage featuring the Tontons after the Kids Countdown followed by the "world's greatest party band," the B52s! A second countdown will usher in the New Year at the stroke of midnight with a spectacular fireworks finale atop Jones Hall.
The programming at the Wortham Center will feature Broadway Singalongs along with some smooth jazz and a magic show perfect for kids and adults alike. The newly renovated Alley Theatre will showcase the chronicles of David Sedaris' experience as a worker in Macy's SantaLand display in cult classic, The Santaland Diaries (for mature audiences only) while world-class percussionist and bandleader Pedrito Martinez is sure to have guests dancing in their seats.
WHERE: Houston Theater District
INFO: For more information, please visit www.nyehouston.org.