Wade Smith Foundation November 2015 Newsletter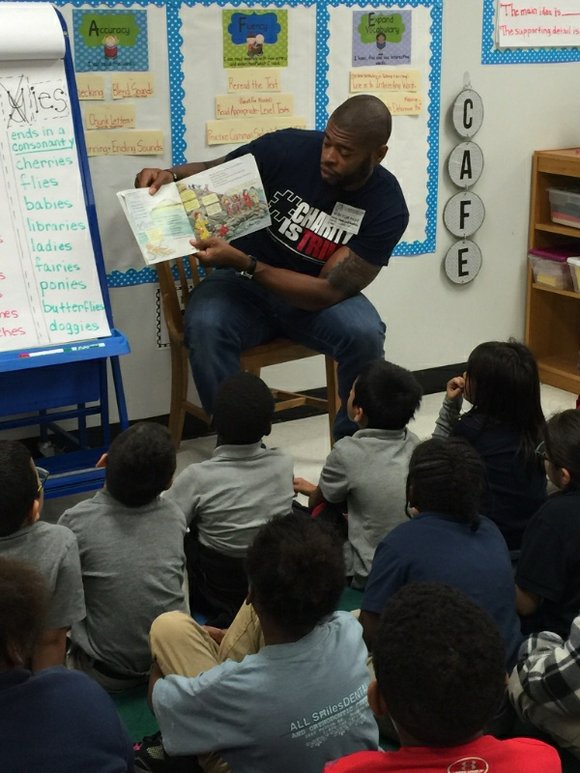 Reading with the Pros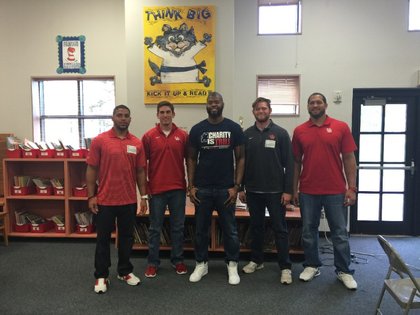 WSF had a spook-tacular time at C. Martinez Elementary in Houston, Texas for our October Reading with the Pros. The students were so excited to see our founder, Wade Smith, with current and former NFL/CFL players, a former USA Track and Field member as well as student athletes from the University of Houston football team as they spoke to them about the importance of literacy and education.

For more information on this program or to inquire about having a RWTP event at your campus, please contact us at info@wadesmithfoundation.org.
Read All The Wade
This fall we launched our first "Read All The Wade" contest at Wallace Elementary. During Wade's visit last month, Wade's height was measured and based on each grade's assigned measurement (inch, half-inch, quarter-inch, etc.), the number of books read will be recorded. The Goal is for each grade, at minimum, read enough books to surpass Wade's height. The grade that has read the most number of books between now and December 1st will get to have a special party. The classroom within the winning grade that has read the most books will get an extra exciting gift from Wade when he returns in April for his 5th Annual Wade Smith Foundation Charity Weekend.
Currently, every 2nd grade class has read at least one "Wade" with two 2nd grade classes (Ms. Waters and Ms. Tegt) having read three "Wades". Ms. Tegt's class is ahead by 75 books! One of the 5th grade classes has read one "Wade". Parents if you have a student at Wallace Elementary, we encourage you to help them Read All The Wade.

Thank You
It's that time of year and we would like to take this opportunity to show our gratitude to each and every person who has ever donated their money, time and hard work to bring WSF. We could not have gotten this far without you.
As you give thanks this holiday season, keep in mind that there are those who are less fortunate than us. Whether it's donating a few dollars, volunteering in the community or donating to your local food pantry, make sure to find time to give back.
Be thankful. Be grateful. Be blessed.
Kroger Community Awards
Thank you so much to those of you who recently enrolled to support WSF in the Kroger Community Rewards Program. By linking your online profile for your existing Kroger Plus card, then selecting the Wade Smith Foundation as your preferred organization, proceeds from your every day Kroger purchases benefit the foundation and our community programs. Please visit www.kroger.com/communityrewards and link your rewards account to start helping WSF today!
For more information, visit www.wadesmithfoundation.org