Houston Grand Opera Presents The Little Prince for Holiday Season
Audience Favorite Features Child Performers, Children's Chorus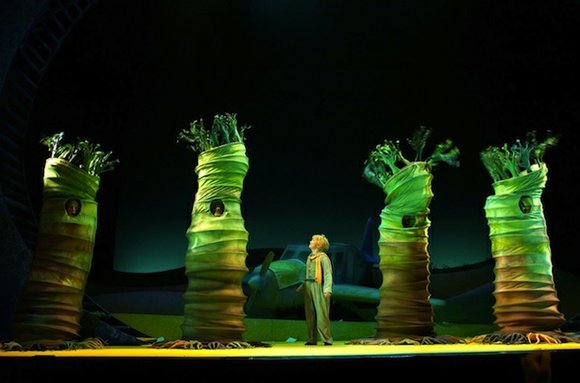 Houston, November 17, 2015—— - Houston Grand Opera (HGO) will usher in the holidays with Rachel Portman and Nicholas Wright's whimsical opera, The Little Prince, December 4–20 in the Cullen Theater at the Wortham Theater Center. The Little Prince has charmed audiences around the world since HGO mounted the world premiere in 2003. The opera has traveled to cities across the United States, Europe, and South Korea. HGO last revived the production in Houston in 2004.
Based on the classic children''s story by Antoine de Saint-Exupéry, this appealing work has been called "an enchanting opera that is both faithful to the book and satisfying to the child and adult alike" (Financial Times). The Houston Chronicle wrote, "Portman's The Little Prince was unfailingly attractive–simple, communicative, touching." The WWII-era tale of a young prince who visits from another planet has been translated into more than 250 languages and dialects. The story's simple yet profound themes of childhood, love, and innocence have proven timeless.
For the 2003 world premiere of The Little Prince, HGO brought together a stellar creative team: composer Rachel Portman, whose score for the film Emma won an Oscar and who has since penned the scores to Beloved and Belle; British librettist Nicholas Wright, an Olivier Award-winning playwright; and Francesca Zambello, a long-time collaborator with HGO who is now artistic director of Washington National Opera and the Glimmerglass Festival. The sets and costumes were designed by the late Maria Bj¸rnson of Phantom of the Opera fame.

HGO's revival will be directed by Ellen Douglas Schlaefer, who has worked with the production since its creation. HGO Head of Music Staff Bradley Moore conducts. Emily Senturia, also of HGO's music staff, will conduct three performances.
Newcomers Andy Jones of Houston (age 11) and Cohle H. Smith of Humble (age 12) will share the role of the Little Prince. For the majority of performances HGO Studio alumnus Joshua Hopkins reprises his 2004 portrayal of the Pilot, in which he displayed a "clarion baritone and an appealing, warm stage presence" (Houston Press). HGO Studio baritone Ben Edquist will perform the Pilot on December 17 and 19. The Snake/Vain Man will be sung by American tenor John Kapusta, who recently played the role at Washington National Opera and will be making his HGO debut. HGO Studio artist Sofia Selowsky will sing the Fox.
The Little Prince also prominently features a 20-person children's chorus. "Usually, in bigger, typically tragic operas, children are the spots of innocence and brightness," HGO Children's Chorus Director Karen Reeves explains. "Here, they are protagonists; they play birds, lamps, stars, and help the Prince narrate the story." HGO Children's Chorus singers range in age from 7 to 17.
The Little Prince is generously supported by lead funders The Robert and Janice McNair Foundation, The Cullen Trust for the Performing Arts, and The Cullen Foundation.
---
Rachel Portman and Nicholas Wright: The Little Prince
Based on the book by Antoine de Saint-Exupéry
Production by Francesca Zambello
Sung in English with projected text