From Rock Hudson to Charlie Sheen, a hHistory of Celebrity HIV Revelations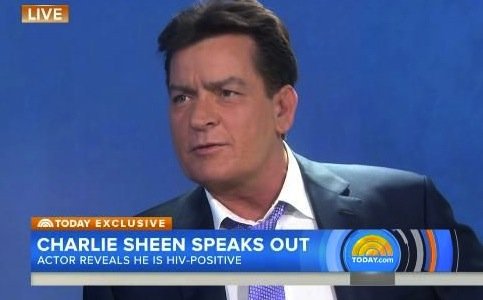 By Melonyce McAfee and Katia Hetter
CNN
(CNN) -- To the generations that grew up on his comedies, there was no actor who more embodied a cheerful, playful romantic leading man than Rock Hudson.
Paired with the bubbly Doris Day in "Pillow Talk," "Lover Come Back" and other clean-cut romantic comedies, he was the very picture of heterosexual manhood.
All the while, the all-American actor was hiding a potentially career-ending secret: He was gay. Hudson seemed prepared to take the secret of his sexual orientation to the grave, along with the knowledge that he'd contracted HIV, the virus that causes AIDS.
The public's relationship with celebrity and HIV/AIDS can be traced back to Hudson.
Thirty years later, with the advent of sophisticated drugs, HIV-infected people can live long, full lives. No longer does it spell the end of a celebrity's public life, a lesson from athletes like Magic Johnson and Greg Louganis.
That bodes well for superstar actor and bad boy Charlie Sheen, who confirmed Tuesday morning to Matt Lauer on the "Today" show that he has been diagnosed with HIV.
"A lot has changed since Rock Hudson," said Robert J. Thompson, a professor of media studies at Syracuse University.
"As for HIV, Magic Johnson's long period of living with HIV, and the many emerging treatments, has given a new context to the condition. Not just HIV; many stars are now coming out and raising consciousness about all kinds of medical conditions: cancer, Parkinson's and others."
That wasn't always the case.
Celebrities forced into revelation
In the 1980s and early 1990s, AIDS was a death sentence, and confirming one's HIV-positive status to the public could be the death knell for a celebrity's career.
Yet many were forced out of the HIV/AIDS closet. The choice to hide his condition was taken out of Hudson's hands after he made a public appearance with Day at a 1985 news conference. His gaunt appearance, which shocked his co-star, made it clear that something had gone wrong with his health.
Media speculation that Hudson had AIDS ramped up after the star collapsed while seeking treatment in France. His spokeswoman confirmed his illness on July 25, 1985, and he died a few months later on October 2, 1985.
Hudson's highly publicized battle with AIDS made him only the first in a long line of celebrities to struggle with the stigma of the virus and the tortuous decision of whether to reveal one's status.
As more people died every day from complications of AIDS, the deaths of tennis great Arthur Ashe, artist Keith Haring and piano virtuoso Liberace pushed the disease into the public consciousness.
But it did not quell the assumption that only gay men and people who'd undergone blood transfusions were at risk of contracting the disease.
Ashe was compelled to reveal his condition in 1992 after learning that a newspaper planned to publish a story about his battle with AIDS, which he said resulted from a blood transfusion during heart bypass surgery.